If you live in North America, you may have never tasted a pepper from the Capsicum baccatum species. There are countless varieties in the species, so where should you even start?
Well, I think the aji pineapple makes for the perfect introduction to the baccatum species of peppers. The plants are super productive, the peppers are a medium heat level, and have great flavor.
In this article, I'll share some info on the aji pineapple pepper. We grew just one plant in the garden, but got enough peppers to spice up countless meals and produce a fermented hot sauce!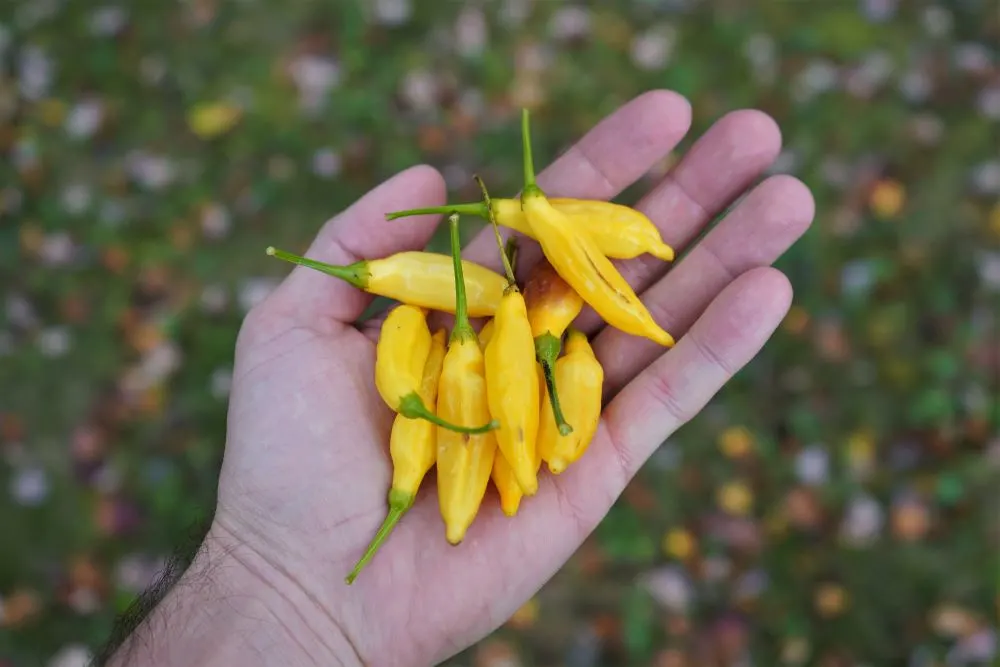 ---
About the Aji Pineapple
In Spanish, "aji" translates to "chili pepper." So, saying aji pineapple pepper is somewhat repetitive. In South America, there are countless aji varieties, many of which are from the C. baccatum species.
The aji pineapple gets its name from it's unique flavor among baccatum types. Many baccatum peppers have a mild, sweet and fruity flavor. However, the aji pineapple has a much more tart, citrusy, and floral taste.
The peppers are typically between 2-3″ long, with a flattened, oblong shape. They ripen from dark green to a bright yellow, and the plants are highly prolific.
---
Aji Pineapple Scoville (Heat)
When it comes to heat, the aji pineapple is no show stopper. However, this makes the peppers appealing to a much wider audience, and perfect for medium-heat hot sauces.
The aji pineapple rates between 20,000-30,000 SHUs on the Scoville scale. They offer a decent punch, around the same heat level as a serrano pepper.
If you're looking to grow something with more kick, browse the many pepper varieties that you can grow at home. Even within the baccatum species, there are some hotter ajis, like the sugar rush peppers.
---
Aji Pineapple Flavor
While the name may be a bit of a stretch, aji pineapples do taste quite good. In my opinion, they do not taste as delicious as fresh pineapple, but the citrusy, bright, fresh flavor is still pleasant.
Pair that with a good amount of kick, and you've got a great base for making fermented hot sauce. We used up the last of our aji pineapples this way, making a simple 2% salt fermented mash.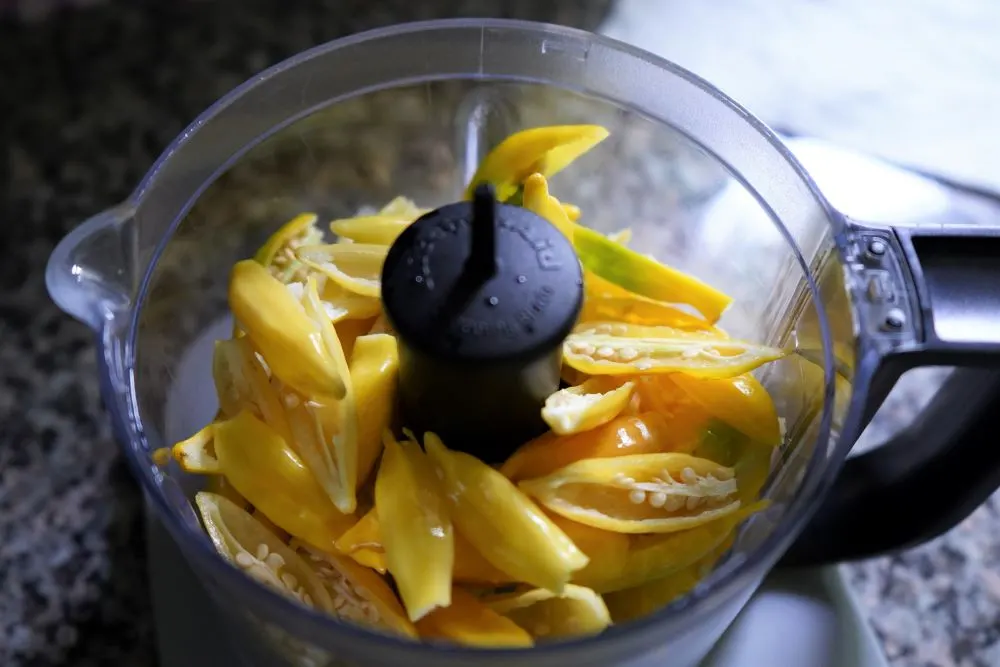 ---
Aji Pineapple Seeds and Plants
Another benefit of growing aji pineapple peppers is the plant's high productivity. Generally speaking, as the pod size gets smaller, plant productivity gets higher. Since aji pineapples are on the small side, each plant can produce several dozen pods in a single season.
As with most baccatum species plants, the peppers can take a while to fully mature. However, I noticed the aji pineapples matured more quickly than our nearby aji amarillo and aji fantasy peppers.
Compared to some of our other baccatum plants, the aji pineapple plant was much more compact. It remained fairly small, about 1.5 feet tall and 2 feet wide. In contrast, our aji fantasy plant grew over 3 feet tall and wide, sprawling across the garden in all directions.
---
More baccatum peppers:
Overall, I would recommend growing the aji pineapple if you want to try something new. These peppers work so well in a variety of dishes, and are excellent for making homemade hot sauce.