Since we're pepper geeks, we like to grow our own peppers from seed every year. However, many people prefer to buy the young plants instead of starting their own seeds indoors. Or, maybe you want to avoid gardening altogether and you'd rather buy a box of Carolina Reapers and have them shipped right to your door!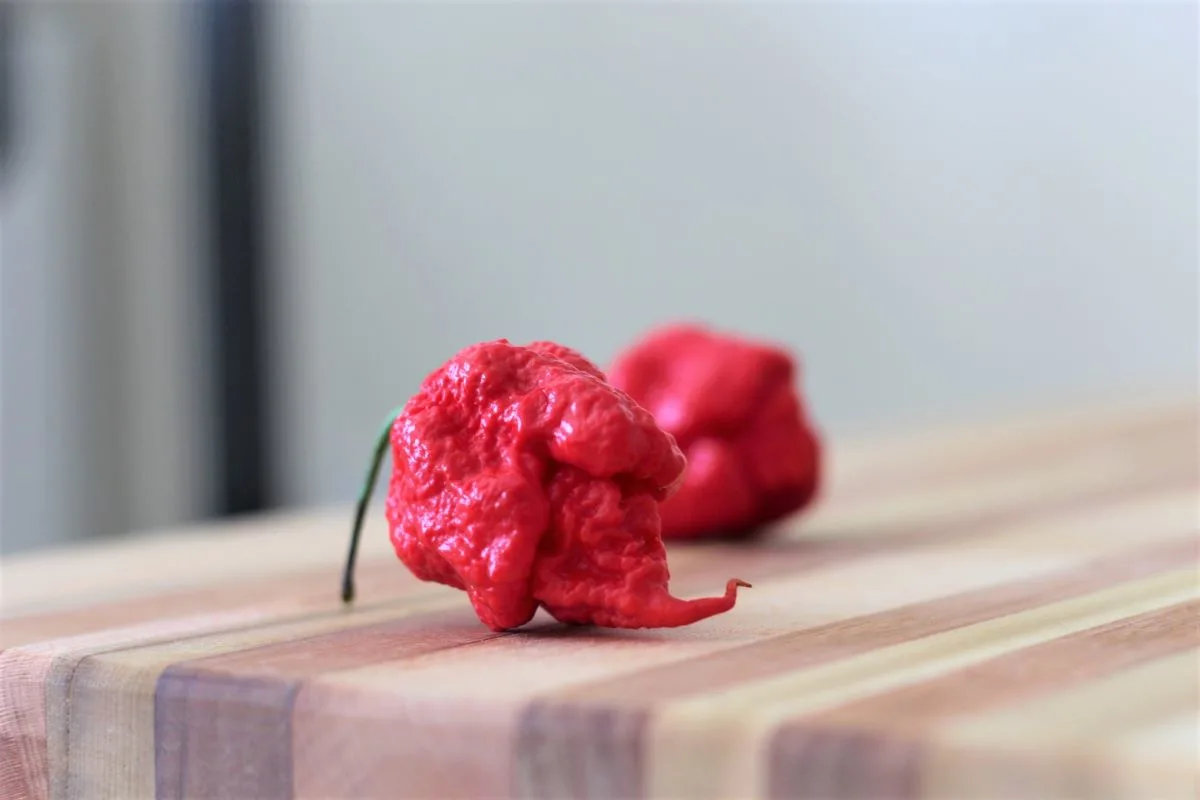 Buying fresh plants and peppers can be tricky. We have heard many stories of people buying peppers from large retailers (Home Depot, Lowes, etc), only to end up with the wrong plant. Can you imagine purchasing and planting a unique variety of pepper only to find out shortly after that it's a standard jalapeno plant?
We love a good jalapeno but we also like to avoid surprises when it comes to grow season. We do know that some people have had success growing super hot varieties from large retailers, so don't exclude them entirely. It may be worth the mystery!
Here at Pepper Geek, we want to make sure you buy your plants and peppers from reputable sources. Here are some of the best places to buy Carolina Reapers (and other peppers).
1. Your Local Farm Stand Or Garden Shop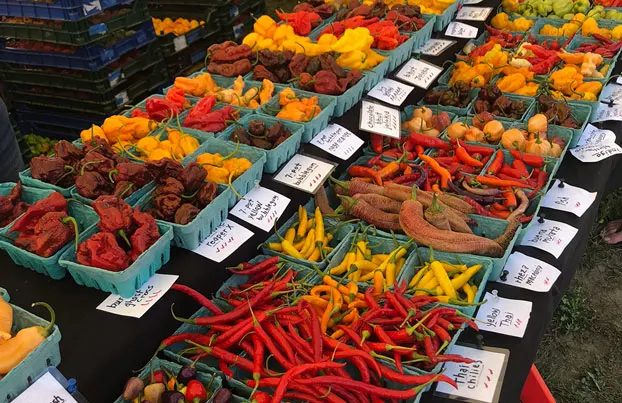 Before buying a Carolina Reaper plant online, we encourage you to check out some of your local farm stands and nurseries early in the season. You never know what peppers they may grow each season. We found that our local garden shop was growing several unique varieties that we had not started from seed ourselves.
By checking your local shop first, you'll be supporting a small business and you won't have to worry about your live plants being shipped in the mail. If its fresh Carolina Reaper peppers you're after, check the farm stands (and chili festivals) in the Fall! If your local shop doesn't have any super hot peppers in stock, they may know someone nearby that does.
You can also check social media, Facebook, and Reddit to find local vendors in your area.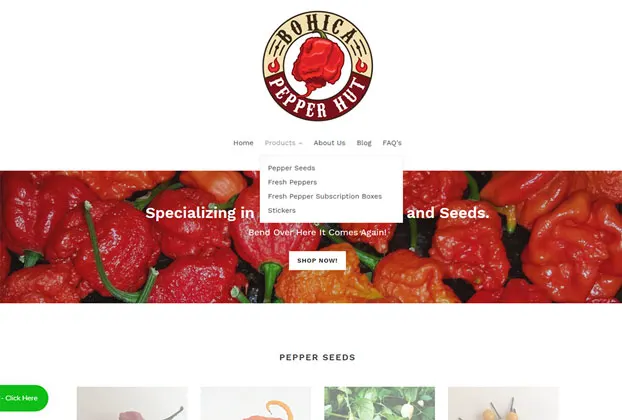 Jason Tate of Bohica Pepper Hut grows over 250 varieties of peppers in his garden. If you're in the United States and you're in the market for fresh Carolina Reaper peppers shipped right to your door, check out Bohica Pepper Hut.
They also sell tons of amazing seed varieties, many of them unique superhots. If you want to branch out from the standard reapers, try one of the specialty crosses available for sale.
Be sure to check in frequently during the season as his fresh peppers sell out quickly. He even has a hot pepper subscription box if you're a true chilihead!
3. Etsy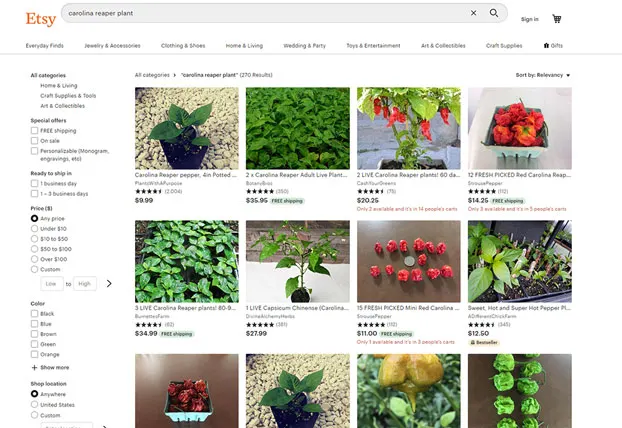 The next best thing to supporting your local garden shop is Etsy.com. Whenever someone asks where they can buy live pepper plants, we send them over to Etsy. You can read buyer reviews and browse photos on each individual plant.
Etsy is also a great place to buy fresh peppers and seeds. Here are some Etsy shops that are selling live Carolina Reaper plants, as well as other super hot varieties.
4. ChilePlants.com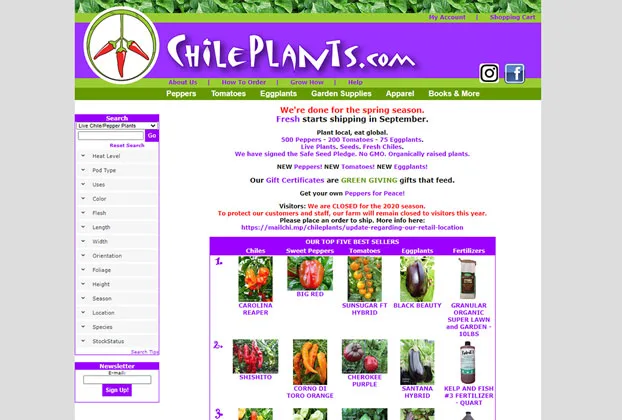 ChilePlants.com sells a variety of both hot pepper plants and fresh peppers. This husband and wife team has been in the nursery business since 1984. They may overwhelm you with the selection of peppers they offer.
If you're in the market for Carolina Reapers, check the website early. However, even if they do sell out, ChilePlants.com has many other delicious (and spicy) varieties to choose from!
5. Ghost Pepper Store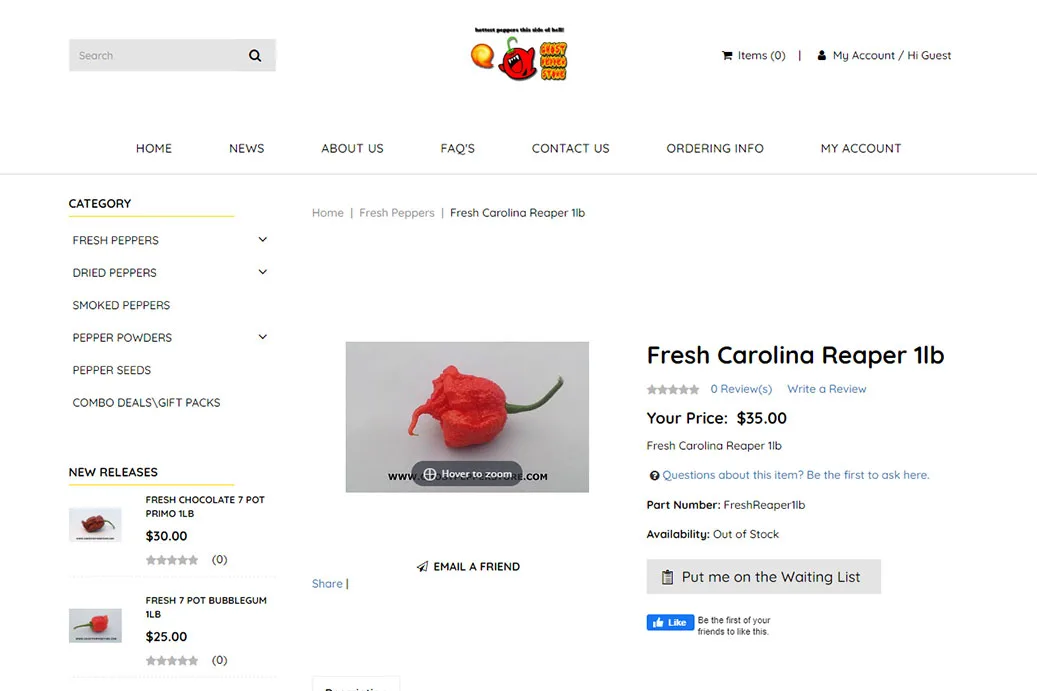 Don't be fooled by the name. Though they started off just selling ghost peppers, this store offers a wide variety of hot peppers. While they do not sell live plants, they regularly stock fresh peppers, pepper powders, and pepper seeds.
6. Pepper World Hot Shop (UK)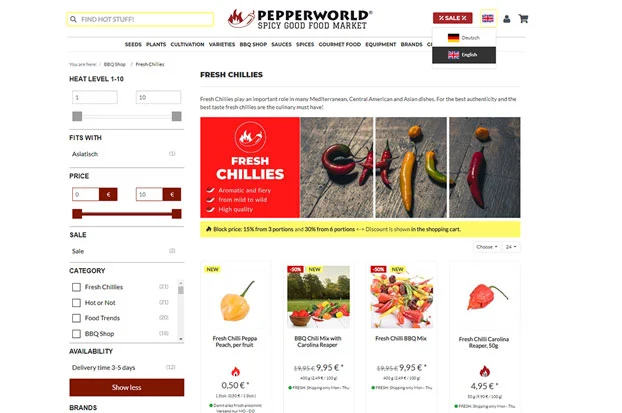 If you live in Europe and you'd like to get your hands on some fresh chilies, head over to PepperWorldHotShop.com. They also sell a variety of hot sauce, bbq supplies, spices, and gourmet food. Living in the states, we have not ordered from them. However, we do know people that have and consider them a reliable retailer of fresh chilies online.
7. Grow Your Own!
The best way to get your hands on reapers is to grow them yourself! We have a full guide on how to grow Carolina Reapers here. It will help you go from seed to harvestings your own superhot peppers at home.
---
If you have ever ordered fresh Carolina Reaper plants online (or peppers), let us know how your experience was. We're hoping in the future we'll be able to open a shop and sell other pepper geeks some of our harvest.
---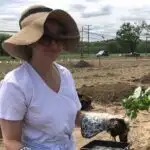 Crystalyn
Crystalyn loves spicy food and getting creative in the kitchen. When she isn't finding new ways to use hot sauce, shes very busy watching cat videos on the internet.