For a unique flavor and a tender texture, we recommend learning how to roast jalapeño peppers at home. They are perfect for pasta sauce, potato salad, fresh chip dips, or just storing for later. It is also easy!
Jalapeño peppers are some of the most common spicy peppers in the world. Grown in bulk in Mexico and the United States, it is easy to see why the pepper is so beloved. However, fellow Pepper Geeks know that each jalapeño plant can produce more peppers than one knows what to do with.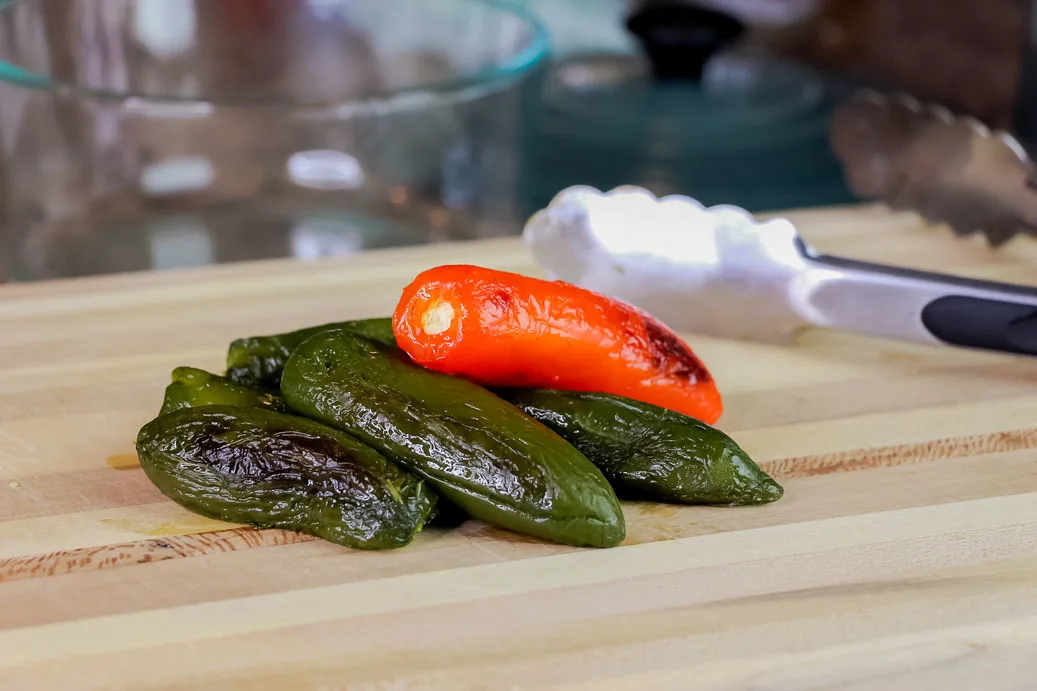 We have a few methods for roasting jalapeños depending on your available equipment. Whether you have a grill or you want to roast in your oven, we'll show you the best way here. If you're just looking for how to use your roasted jalapeños for cooking or storing, skip ahead to learn more.
Skip Ahead:
---
Roasting Jalapeños In The Oven
The most accessible method for roasting jalapeños is at home in the oven. The only drawbacks of this method are that it is hot in the summer and turning your oven on will warm up your kitchen.
Also, the flavor of oven-roasted jalapeños is not as pronounced as over the grill. Nevertheless, this is still a very quick and easy method for getting the job done!
Tip for all roasting methods: Leave the peppers whole while roasting. Waiting to slice the peppers helps keep moisture locked inside the peppers and makes skin removal easier.
Ingredients:
Jalapeños
Oil (use something with a high smoke point like canola or EVOO)
How To Roast Jalapeños (Directions):
Prep & cook time: 20 minutes
Move oven rack to highest (broiling) position.

This ensures that the peppers are as close as possible to the oven's heating element for quick charring.

Preheat the oven to 450°F.
Clean the peppers.

While the oven is preheating, prepare your peppers by cleaning them thoroughly under cool water. Dry the peppers as well to ensure the oil sticks to the peppers before baking.

Remove the stems.

Remove the pepper stems by simply pulling them off. If the stems are stubborn to come free, you can slice off the very end of each pepper with a knife.

Place peppers on a baking sheet & lightly coat with oil.

Keep the jalapeños separated by about 1 inch. Ensure peppers have an even coating of oil. For enhanced flavor, add a pinch of salt to the oil prior to coating.

Roast for 5 minutes on each side.

Watch the peppers closely and turn them when they begin to char. Then flip the peppers and roast an additional 5+ minutes on the other side.

Steam the peppers.
Peel the skins off.

Once you have allowed the hot peppers to steam, the skins should come off fairly easily. Slice the peppers lengthwise, remove the pepper skins and discard them. You can also remove the seeds at this point if desired (remember to wear gloves!).

Enjoy fresh or store the peppers.

You can store roasted jalapeños in the fridge for up to a week, or freeze them in freezer bags for several months. Learn more methods for using roasted jalapeños here.
This is a great method for roasting jalapeños in the oven and makes it easy to roast a lot of peppers at the same time. For a little more flavor, try our next method: On the grill.
---
Roasting Jalapeños on the Grill
Whether you have a gas or charcoal grill, we recommend using it instead of the oven if possible. The peppers take on all the great flavors that come from grilling and lock them in.
Just like with chicken, grilling brings out that characteristic flavor that can only be had from this method. Whether it's the outdoor air or the variable heat, we're not sure. All we know if that the grill is the best way to maximize flavor for your roasted jalapeños!
Ingredients:
Roasting Peppers on the Grill (Directions):
Fire up the grill. If you're using a charcoal grill, let the heat come down for about 15-20 minutes. If you have a temperature gauge (like on a gas grill) shoot for around 450°F (high heat).
Clean the peppers. Clean off any excess dirt using cool water, dry the peppers, and remove the stems.
Place whole peppers on the grill. Once the grill has reached the required temperature, place your peppers on the grill above the heat, spacing them by around 1-2 inches. Note: You can lightly coat the peppers in a high smoke point oil, but this isn't required.
Grill for 5 minutes with lid closed. You want to peppers to get a nice, dark charring on the skins. If the temperature is adequately high, this should start to happen after about 5 minutes. Check the peppers once or twice to avoid over-cooking.
Turn the peppers and cook an additional 4-5 minutes. Flip the peppers so the charred side is up, and cook for another 4-5 minutes. If the peppers are not charring, keep them on until the skins reach your desired color. The peppers should also be soft and pliable at this point.
Steam the peppers. See below to learn how to steam roasted jalapenos.
Peel off skins. Slice the peppers lengthwise and remove the skins and seeds.
Enjoy fresh or preserve. What you do with your roasted peppers is up to you!
Like I said before, grilling is the ideal option. However, we know that not everyone has a grill. But you may just have a gas stovetop in your kitchen. If you do, you may want to try the compromised method of roasting jalapeños on the grill: Over a gas stove.
---
Roasting Jalapeños on a Gas Stove
If you happen to have a gas stove, you can try roasting jalapeños over an open flame. This should be a sort of last resort, as it will be time-consuming to roast the peppers one or two at a time.
It can also be dangerous. However, the result may be tastier than oven-roasted jalapeños, so it might be worth it (especially if you don't have many peppers).
Roasting Jalapenos on a Gas Stove:
Clean and dry the peppers. Use cool water to clean off excess dirt from the peppers and dry them thoroughly.
Remove stems. Pull the stems off of each pepper that you plan to roast.
Skewer peppers on long metal prong. You'll need a long, sharp prong (ideally a metal roasting fork – these are great on Amazon) to avoid getting burned. We'd also recommend roasting one pepper at a time so that you can keep focused.
Roast for 3-5 minutes. Wearing an oven mitt, roast the jalapeños over the open flame, keeping the pepper about 2 inches above the fire. Turn the pepper after each minute of roasting for even charring. Warning: be prepared for the possibility of fire! Be careful not to touch the pepper to the flame and have some water nearby to submerge the pepper in an emergency.
Steam the peppers (see below).
Remove skins. After steaming, remove the skins and use your peppers as desired.
---
Steaming & Peeling Roasted Jalapeños
Steaming is an important step for how to roast jalapeños. If you remove the peppers from the heat and immediately tried removing the skins, you will:
A. Burn yourself (ouch).
B. Struggle to get the skins off.
So in order to fix both of these problems, we allow the freshly roasted jalapeño peppers to steam using their own moisture. There are two methods that work equally well.
How to Steam Roasted Peppers:
Option 1: Place peppers under a bowl. Using a clean surface (like a cutting board), place the hot peppers close together. Place the bowl over the peppers upside down, sealing tightly so that no air can escape. Alternatively, simply place them in a bowl and cover with a silicone bowl cover. Allow to steam (and cool) for 15+ minutes. Then proceed to remove the pepper skins.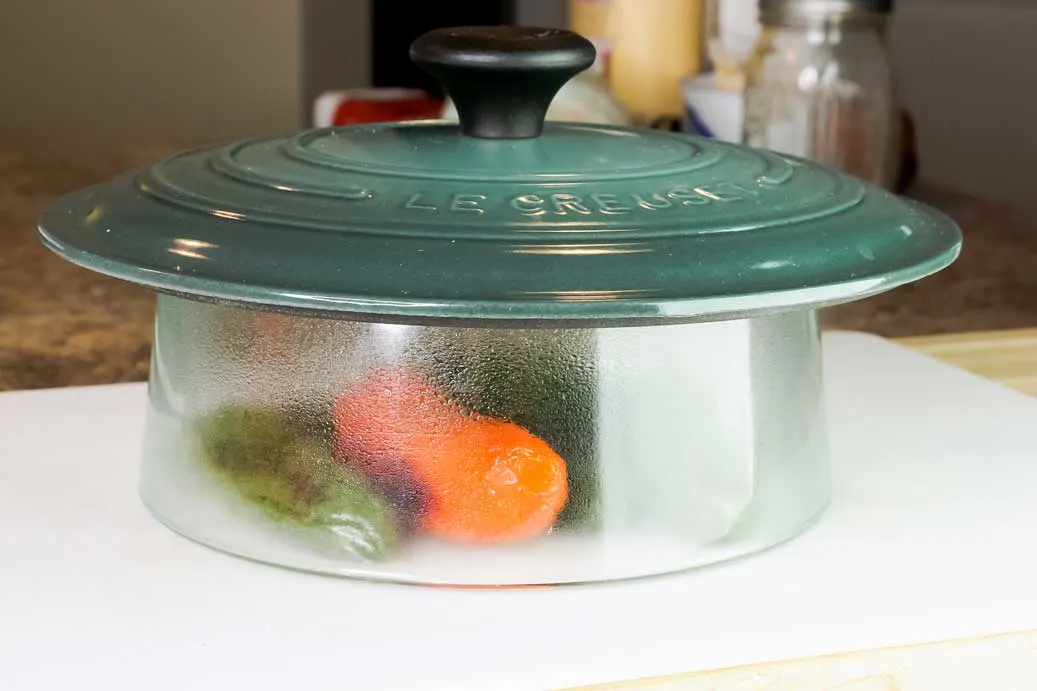 Option 2: Place peppers in a paper bag. Place the freshly roasted peppers in a paper bag and close it tightly. This will trap moisture (though not as well as the bowl method) and loosen the skins. Allow to steam for 15+ minutes, then remove the pepper skins.
Why remove the skin? The skin of the pepper is not needed because it is tough and slightly bitter. The point of roasting jalapeños is to keep the sweet, fiery flavor of the pepper without any harshness from the skin! Also, if making hot sauce, the skin is hard to finely chop.
---
What To Do With Roasted Jalapeños
So you've learned how to roast jalapeños, but what now? Didn't have a plan beyond the roasting part? Well, here are a few ideas for what to do next with your freshly roasted jalapeños.
Add Them To Egg or Potato Salads
Roasted jalapeños are a fantastic way to spice up potato or egg salads. They will add a nice kick of spiciness and a fantastic, rich, sweet flavor. Alternatively, try adding these to omelets, tacos, sandwiches or anything other recipes you think could use some heat!
Stir Them Into Pasta Sauce
Jalapeños add a mild, tolerable heat to any tomato sauce. We love the roasted flavor and the spicy kick that comes with it. They also add a speckled green and black color to your sauces, prompting your guests to ask, "What's the secret ingredient?"
Use Them To Make Dip
Salsa, sour cream dip, whatever you've got in mind. Jalapeños are a must have for fresh-made dips in our household, and roasted jalapeños add a different character. You can use fresh jalapeños or cooked in dips, but there is something about the soft, rich flavor of roasted jalapeños that makes our mouths water.
Fill Pepper Halves With Cream Cheese
Why not? You can make jalapeño poppers in reverse if you want. Live your life.
But seriously, whip up some cream cheese, herbs and spices and a bit of sprinkled cheddar and you've got yourself a batch of tasty hors d'oeuvres. It may be a little messy since the peppers won't have any rigidity, but you can find a way to make it work.
Store Them In Oil
This is not a long-term storage method, but it is great for the short term. We wrote about how to preserve jalapeños in olive oil, and roasting is the first step. Use these on sandwiches or on eggs for a smooth, rich flavor.
Freeze Them
Not ready to use your roasted peppers just yet? No problem. Get yourself some proper freezer bags and freeze your roasted peppers for months. They will retain that great, roasted flavor even after months of freezing. Just be sure to freeze them properly! Check out our guide to freezing jalapenos here.
---
How Long Do Roasted Jalapeños Last?
After roasting jalapeño peppers, you may wonder how long they will last. Their shelf life duration will depend on how you plan to store them.
In a nutshell, roasted jalapenos will last between 1-2 weeks in the refrigerator. Shelf life can be prolonged by freezing or making hot sauce. Use your roasted peppers with our suggested techniques above.
If you suspect the peppers have gone bad, it is best to discard them. Check for fuzzy mold growth on the roasted jalapeños before consuming!
---
Does Roasting Jalapeños Make Them Milder?
You may wonder if roasting your jalapeños will reduce the heat level. Does cooking peppers make them milder?
Simply put, roasting jalapeños can make them slightly milder than when eaten fresh. According to one study, cooking at high heat can cause thermal decomposition of capsaicin in the peppers.
Most of the heat of jalapeño peppers lies in the placenta, the white, spongey section of the pepper that holds the seeds. If you want to reduce heat further, try removing the seeds and placenta with a spoon after roasting. Remember to always wear gloves when slicing spicy peppers!
---
Read Next:
I hope you had fun learning how to roast jalapeños here on Pepper Geek. If you have any tips or suggestions, feel free to share them!