We start a lot of plants indoors each year. Since we grow dozens of new pepper varieties each year, and tons of other crops, we rely heavily on quality indoor grow lights to get them started.
Since their debut in 2015, Spider Farmer has established themselves in the grow light space with high quality, reliable product lines. They are known for offering both commercial setups and home gardener lights.
In this article, I'm reviewing two lights from Spider Farmer's SF series: The SF600 and the SF1000. These lights take on very different form factors, and therefore are useful for different applications.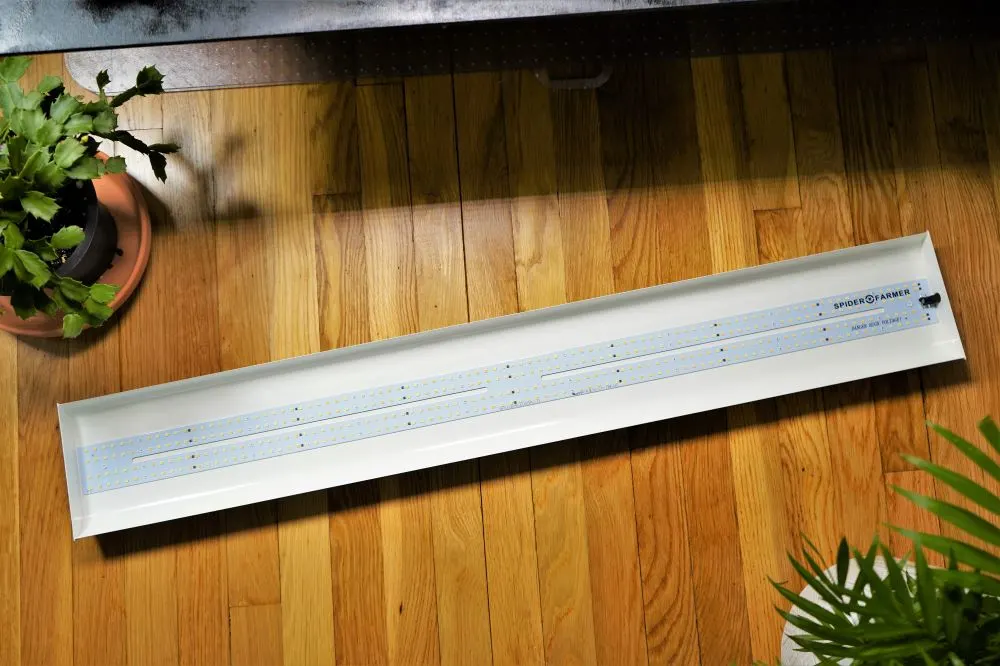 I'll take a look at each light's power consumption, efficiency, recommended hanging height, and coverage area. Then, we'll decide which may be more suitable for your particular growing needs. Let's get started!
Disclaimer: Spider Farmer provided these grow lights free of charge for testing and review purposes.
Skip ahead:
---
Spider Farmer SF600 Review
Spider Farmer's SF600 is intended to be an efficient replacement for T5 fluorescent grow lights. The long, slender design gives the light a rectangular coverage area, rated for a space up to 2'x4′.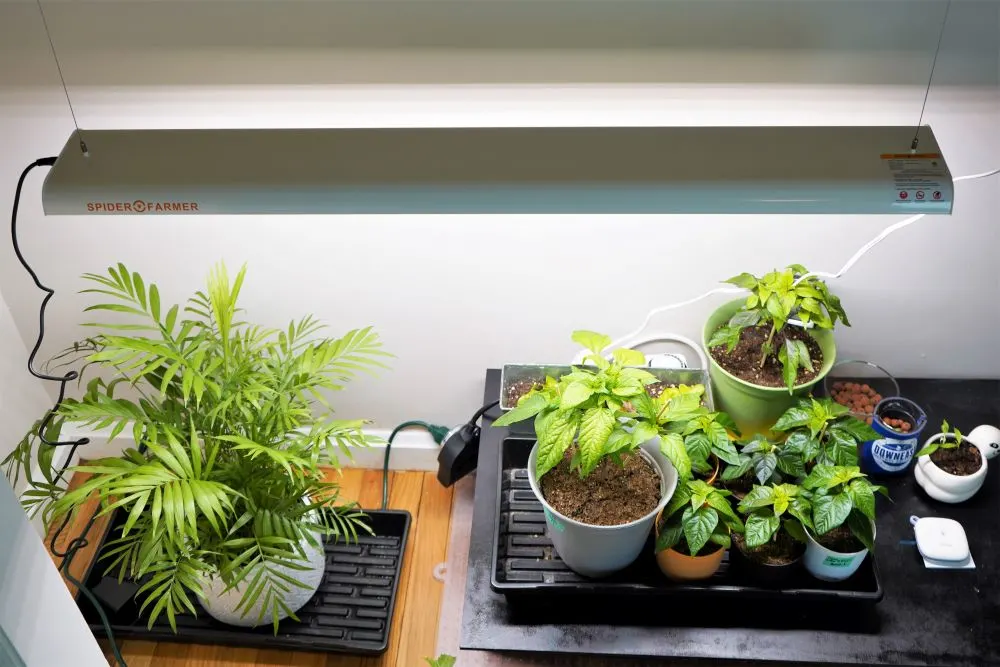 Included with the SF600 light, you'll get a power cable, two hanging cables, and the instruction manual. You will not get ratcheting hanging ropes to easily change the light's height.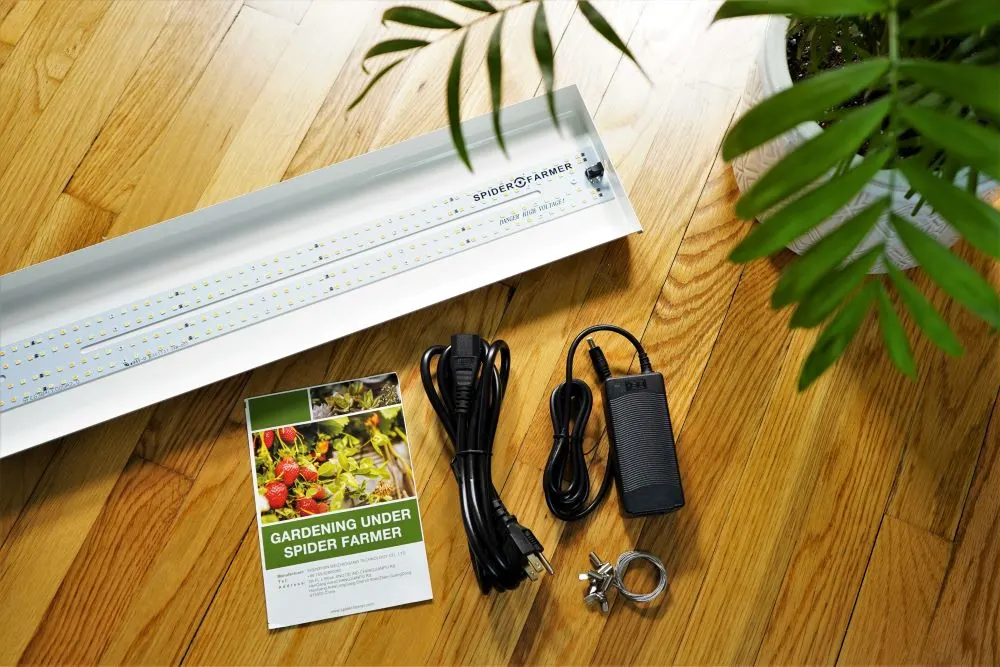 The unit has 384 individual LEDs mounted on a thin metal hood shield. It is a full spectrum light, with output across the PAR (photosynthetically active radiation) spectrum. In other words, the light looks like natural, white light, and won't bother your eyes.
In place of an external driver, the SF600 has surface mounted drivers. This means a lightweight, simple design that is ready to be plugged in right out of the box.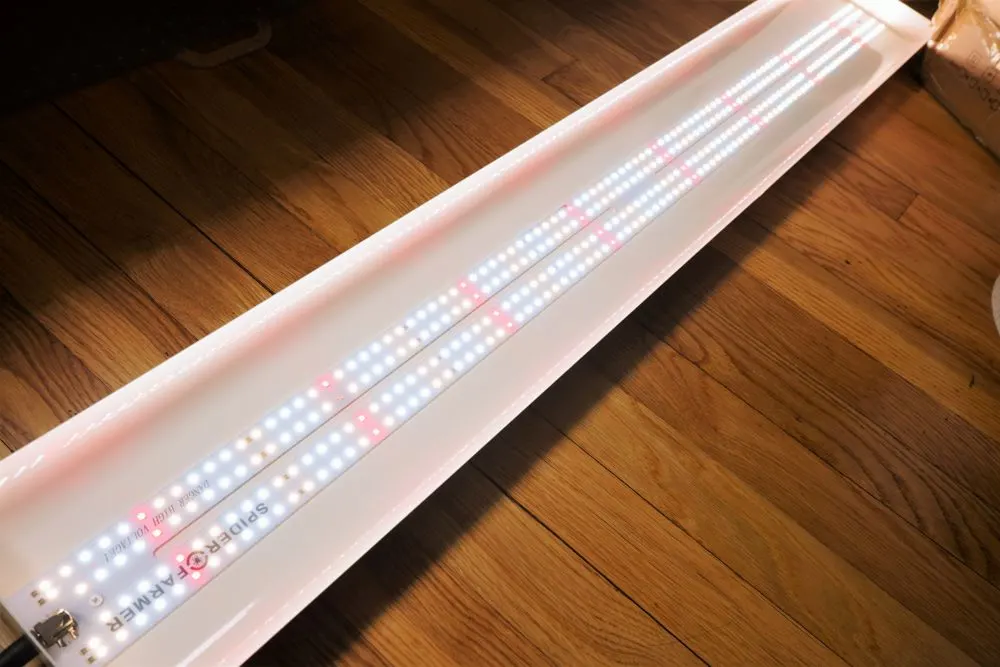 SF600 Specs
The SF600 has a pretty impressive spec sheet, especially on efficiency. It is clear what Spider Farmer was going for in making this light: Seedlings and vegetative growth. Thanks to the low wattage to diode ratio, the light runs cool, despite not having a heat sink.
| | |
| --- | --- |
| PAR | 166 umol/S |
| PPE (efficiency) | 2.28 umol/J |
| Power consumption | 74W |
| # LEDs | 384 |
| Light dimensions | 39″x6″x1.5″ |
| Coverage area | 2'x4′ |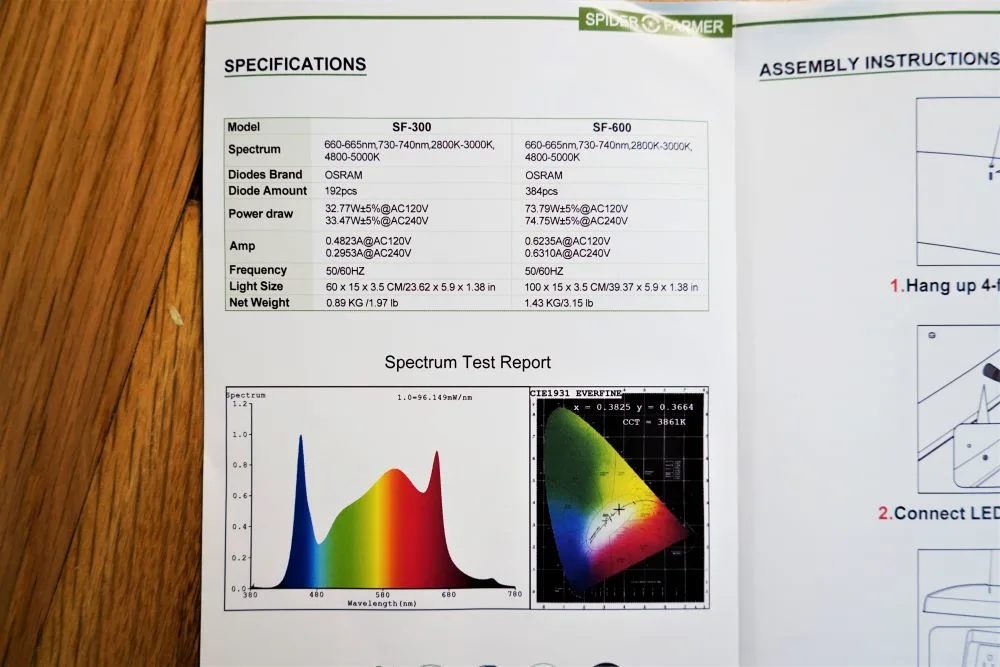 SF600 Hanging Height and Coverage
The SF600 is meant for seed starting and vegetative growth. Ideally, you would set this up above a long, skinny table or shelf with rectangular seed trays.
At a height of 12″, the SF600 has very uniform light coverage across a 1'x3′ area, and decent coverage over the rated 2'x4′ area. In my opinion, a 12″ hanging height above two 10″x20″ seed trays would be the perfect use for this light.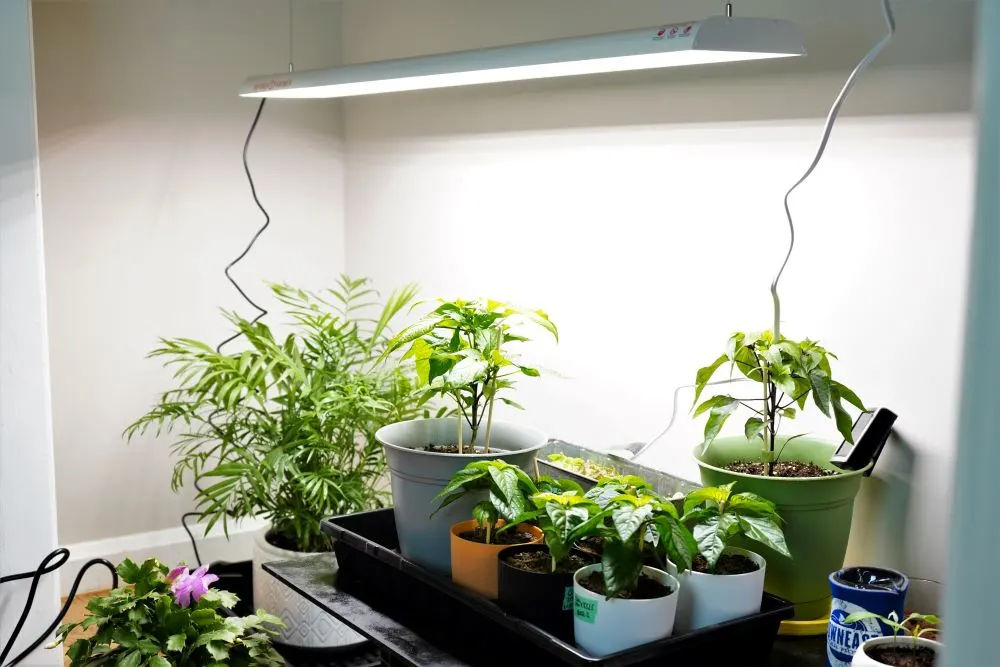 SF600 Pros and Cons
As with any grow light, there are pros and cons. While the SF600 has its plusses, there are some negatives to consider as well. Keep in mind that this light has an intended use, namely for smaller plants.
Pros:
Much more efficient than T5 fluorescent bulbs
Low running temperatures
Silent
Perfect for seedling trays
Ideal for long, thin coverage
Cons:
Not dimmable
Not water resistant
Does not come with ratcheting hanging ropes for easy height adjustment
No daisy chaining
Flimsy design
On the plus side, the SF600 is super efficient, meaning you can save money on electricity using this light over the long run. Compared to T5 fluorescent bulbs, it SF600 is about twice as efficient at delivering light to your growing plants.
The long, thin design of the SF600 is another positive, especially for those of us who primarily need lights to start seedlings indoors. For pepper and tomato growers, this light will be perfect for getting your plants off to a strong start before moving outdoors.
On the downside, the SF600 does not have a dimmer knob, nor is it water resistant. These features are becoming more common in affordable LED grow lights, so it's a bit disappointing. The design is also fairly easy to bend, as the light panel is mounted directly to a thin metal light reflector hood.
Hanging the SF600 is also a bit cumbersome, with a unique screw-on wire that has to be looped through a wing nut, then tightened. If you have any spare ratchet hangers, use them to help you hang the SF600.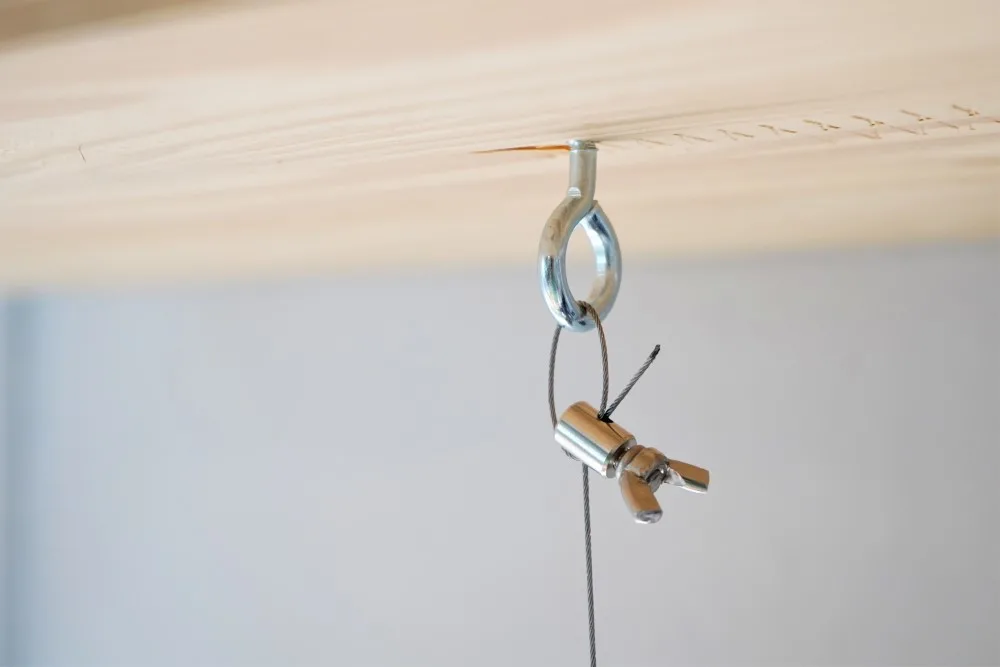 Overall Thoughts on the SF600
If you are looking for a reliable, long-lasting, efficient grow light for starting seedlings indoors, the SF600 may just be perfect. The price point is slightly higher than a comparable T5 unit, but the light uses far less energy, and should last longer, too.
The SF600 is not ideal if you have a square space, or you are growing plants that produce fruit. If you need something with more power, or you are growing energy-hungry plants indoors, stepping up to the SF1000 may be best.
---
Spider Farmer SF1000 Review
The SF1000 has a standard form factor when compared with other ~100W LED grow lights. The shape is close to square, and as a result, the recommended coverage area is also square. These lights are also capable of daisy chaining, meaning the SF1000 could be used in larger grows or a commercial setup.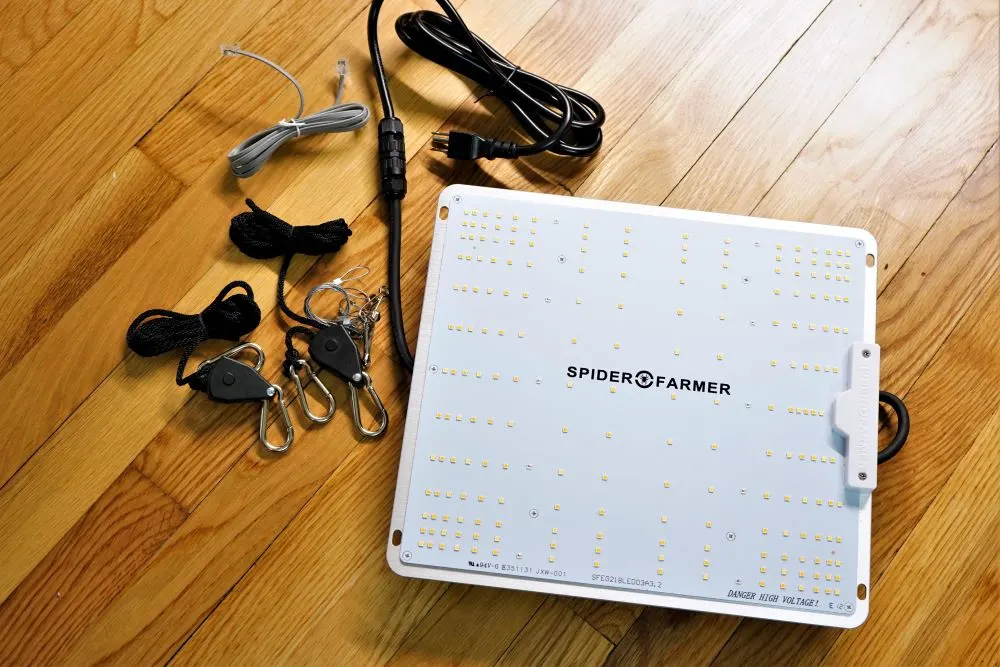 With the SF1000, you get more light output and PAR for growing plants from seedling to maturity. While this light can certainly be used to start seedlings or grow vegetative plants, it is capable of growing straight through to harvest.
The SF1000 comes with a dimmer box, a water resistant coating over the diodes, easy-to-use ratchets and hanging ropes, and a useful setup booklet. The dimmer makes it easy to dial in the perfect amount of power, while the water resistant coating offers peace of mind.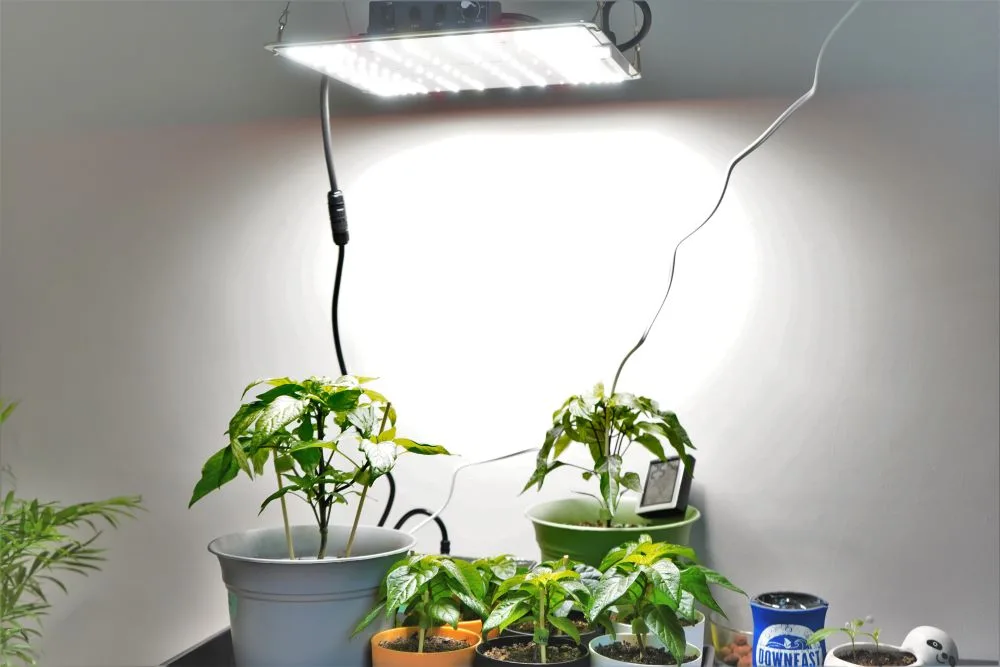 When it comes to components, the SF1000 is built to last. The MeanWell driver and Samsung diodes are top-shelf. Even the power cable has a more substantial thickness and weight, giving the whole unit a 'built like a brick' feel.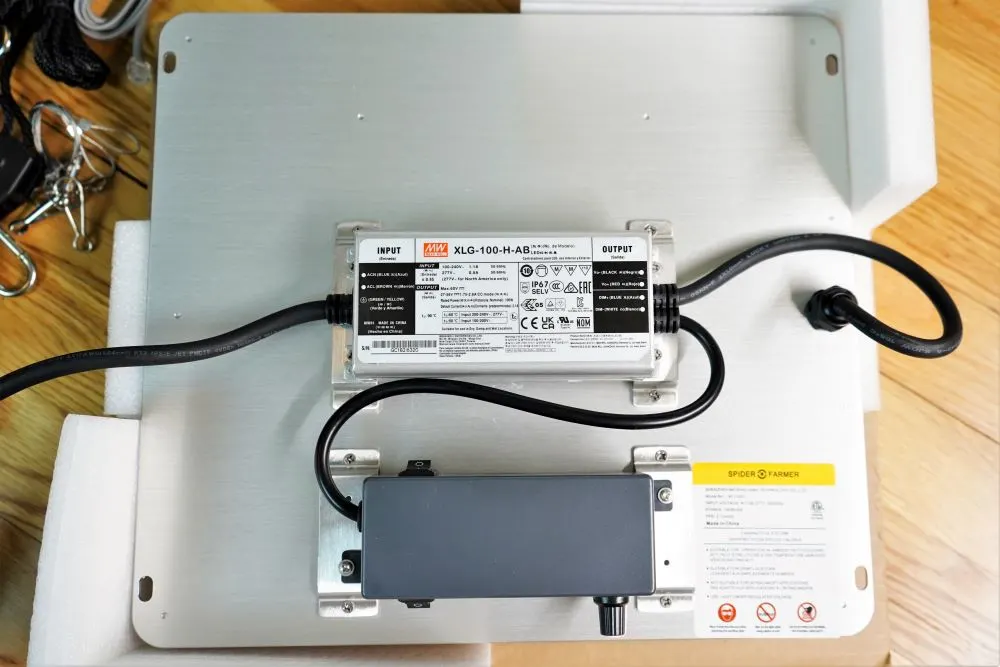 While the light does run cool, a more substantial heat sink would be nice to prolong the lifespan of the LEDs. Still, the metal panel will dissipate heat well enough.
SF1000 Specs
Now, for the important stuff: How well will the SF1000 actually grow plants? Here are a few key specs that will help you decide whether the price is worth what you are getting:
| | |
| --- | --- |
| PAR | 250 umol/S |
| PPE (efficiency) | ~2.5 umol/J |
| Power consumption | ~100W |
| # LEDs | 218 |
| Light dimensions | 12″x10.5″x2.5″ |
| Coverage area | 2.5'x2.5′ (or 2'x2′ for fruiting stage) |
This light is also full spectrum, meaning that there is coverage across the PAR range. There are 4 types of diodes for maximum growth: 3000K, 5000K, 660nm, and 760nm. I find that the SF1000 emits a "warmer" light than other full spectrum grow lights, perhaps due to more red diodes.
SF1000 Hanging Height and Coverage Area
One of the most common questions about any grow light is "how high should I hang it above my plants?" With the SF1000, it is clearly listed in the user manual.
Spider Farmer SF1000 Hanging Heights:
Germination: Hang 22″ above leaves at 40-60% power.
Seedlings: Hang between 16-22″ above leaves at 40-60% power.
Vegetative growth: Hang between 14-16″ above leaves at 60-90% power.
Flowering/fruiting: Hang between 12-14″ at 90-100% power.
For smaller plants and seedlings, you can easily light a 3'x3′ area with the SF1000. Alternatively, you could grow a single, large plant through to harvest using this light. I like that this light's use is highly flexible – how you use it will be up to you.
SF1000 Pros and Cons
The SF1000 has a lot of pros, buy one big drawback: price. However, the higher price over comparable units from other brands may be justified by the high-quality diodes, driver, and a 5 year warranty.
Pros:
Premium components
Dimmable
Water resistant coating
Easy height adjustment
Efficient
Silent
Durable construction
Cons:
More expensive than other LEDs at similar wattage
No finned heat sink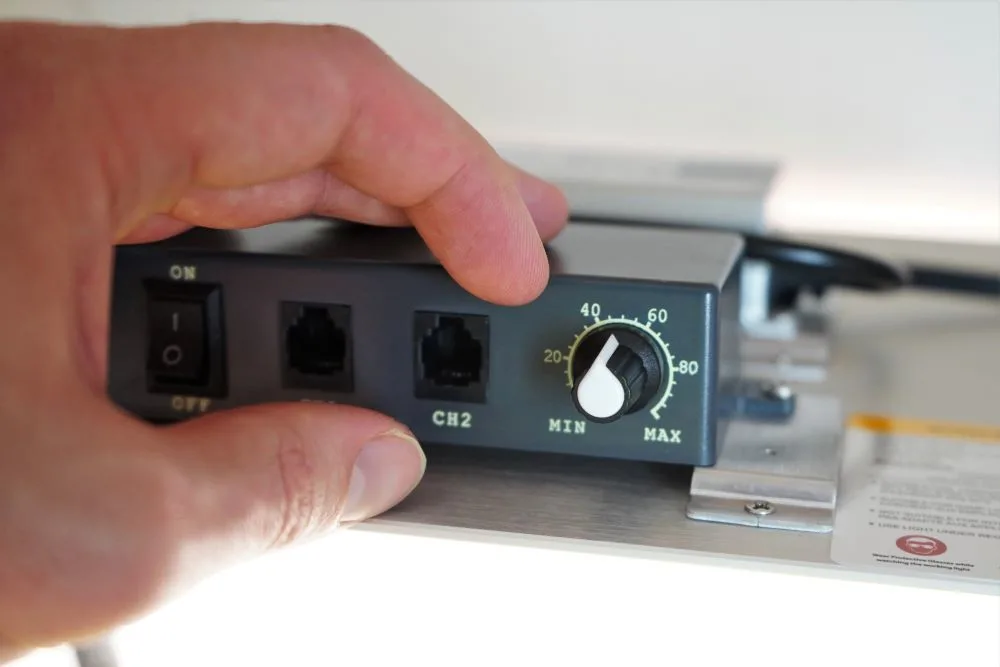 On the plus side, the SF1000 is a very well-built grow light, with a premium driver. The diodes are also spaced in a unique pattern, with more LEDs near the edges, and fewer in the middle. This means a more even distribution of light.
Another feature I appreciate are the short hanging cables. Other manufacturers provide long cables, while Spider Farmer's are around half the length. This allows the light to be hung higher up if you have limited vertical space!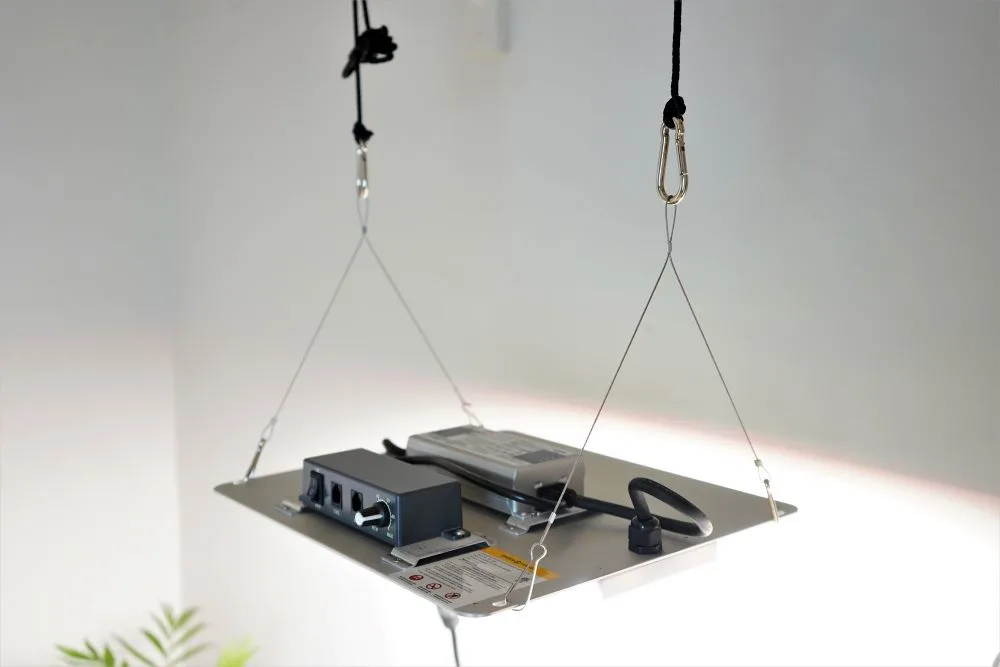 On the downside, the SF1000 is among the most expensive entry-level 100W grow lights. There have also been some reports indicating that the light may not quite draw 100W at full power. However, we have not tested this ourselves.
Overall Thoughts on the SF1000
The SF1000 is one of Spider Farmer's entry-level grow lights for small indoor grows. It is a strong performer with very good efficiency, but the price point is also high. If your indoor grow involves fast-growing plants, the SF1000 will certainly get the job done.
---
Which Light Should You Choose?
If you're deciding between Spider Farmer's SF600 and SF1000 grow lights, consider your personal growing space. If you plan to simply start seeds, the SF600 is a great choice. If you want to grow large pepper or tomato plants indoors year round, the SF1000 will perform better.
SF600
Rectangular coverage (up to 2'x4′)
Best for starting seeds
Smaller non-fruiting plants
Lower price per overall output
SF1000
Square coverage (up to 3'x3′)
Seed starting or fruiting plants (or both)
More flexibility and features
Higher price but better components
I hope this article helps you decide on a new LED grow light. Spider Farmer also has a great lineup of more powerful lights for larger setups, so be sure you explore their options.