There are many options for growing your own greens and herbs indoors. A great option for beginners is a simple hydroponic system like the Click and Grow.
However, there are some big differences between some of the options that are out there. The Click and Grow has a design that stands out from the rest in a few key ways.
So, in this article, I'll share a straightforward Click and Grow review. I will cover the design of the unit, pros and cons compared to other options, and who I would recommend it to. Let's get into it!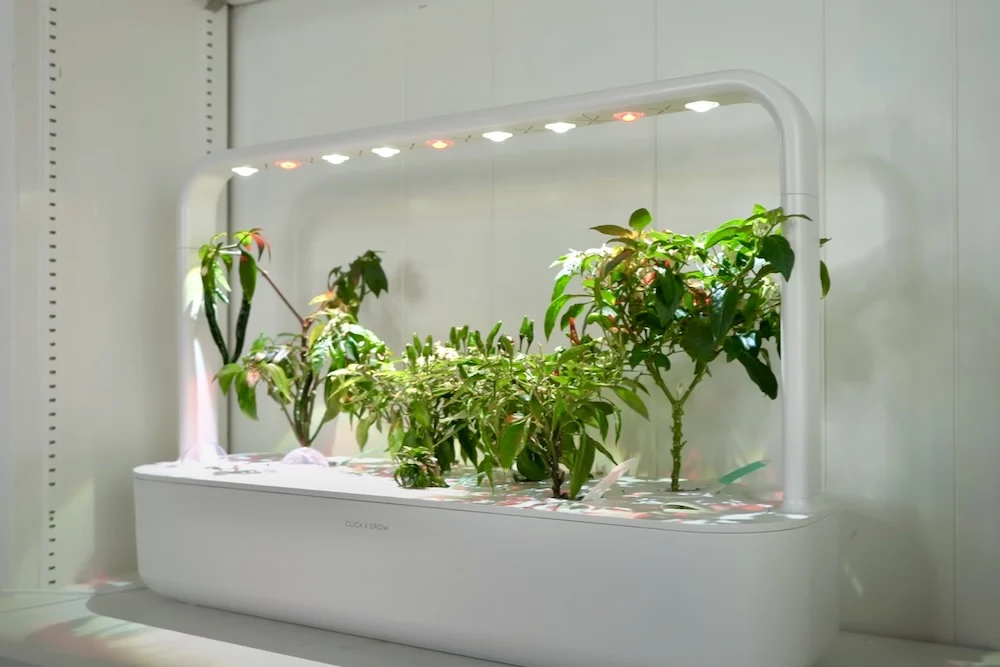 ---
Click and Grow Setup and Design
Setup takes about 5-10 minutes, and when it is put together, the Click and Grow has a clean and simple look. Out of all the indoor grow systems we have seen, this is the most attractive by far.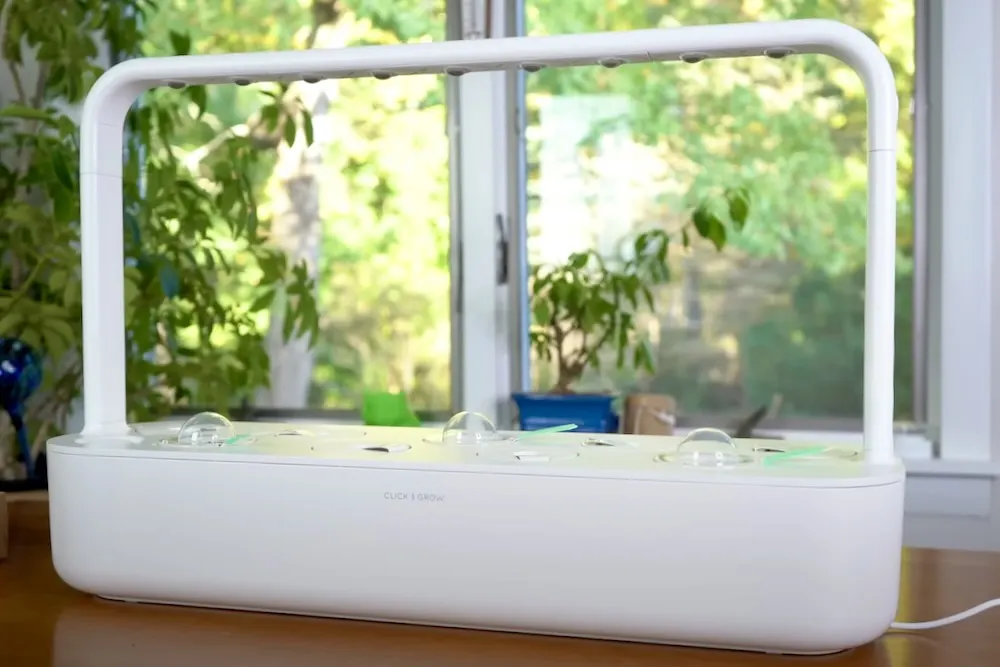 After using our Click and Grow for over a year, we have learned how it should be used (and how it shouldn't). This "smart garden" is essentially a wicking hydroponic system for easily growing small plants indoors.
The unit has 4 basic components:
Water reservoir
Plant pod cups with wicks
Plant pods (with fertilizer and seeds)
Overhead LED light bar
Once you piece together the Click and Grow unit, all you have to do is fill the reservoir with water, pop a plant pod into each of the cups, and cover them with the mini humidity domes.
There is room to grow up to 9 plants in the Smart Garden 9, or 3 plants in the Smart Garden 3. Our seeds sprouted in about 10 days since we weren't able to apply warmth to our pepper seeds.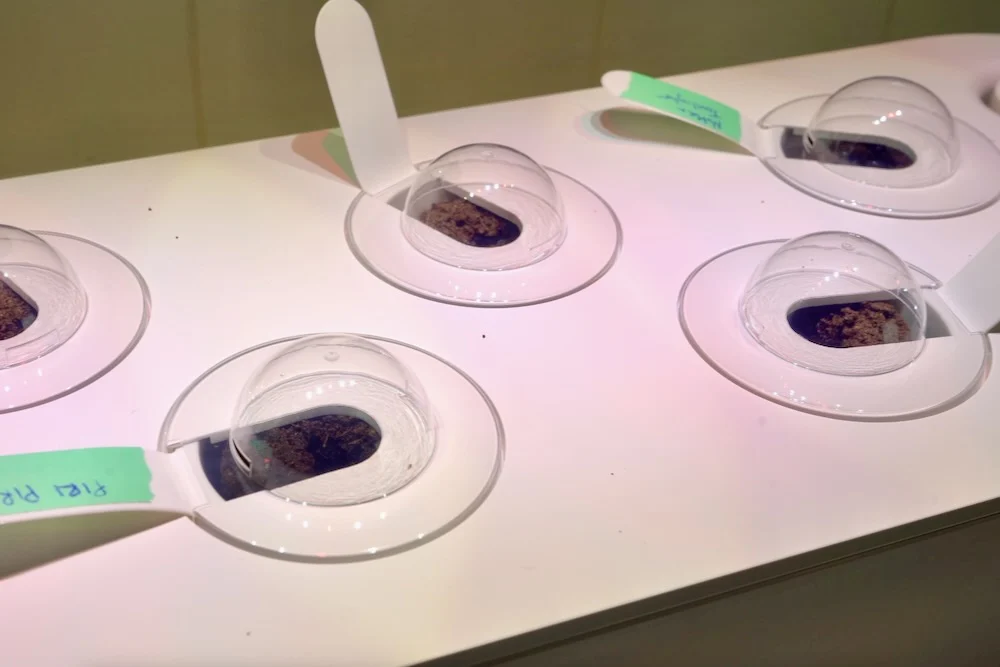 The cups are completely enclosed, meaning that the plant's roots will not dip directly into the water reservoir. Instead, a fabric wick draws water up into the root zone. This keeps the root systems of your plants constrained to the plastic cups, meaning that the plants won't grow too large.
This is the main difference between the Click and Grow and the Aerogarden's design. Aerogardens allow plant roots to grow freely into the water reservoir, leading to a messy cleanup, and sometimes overgrown plants.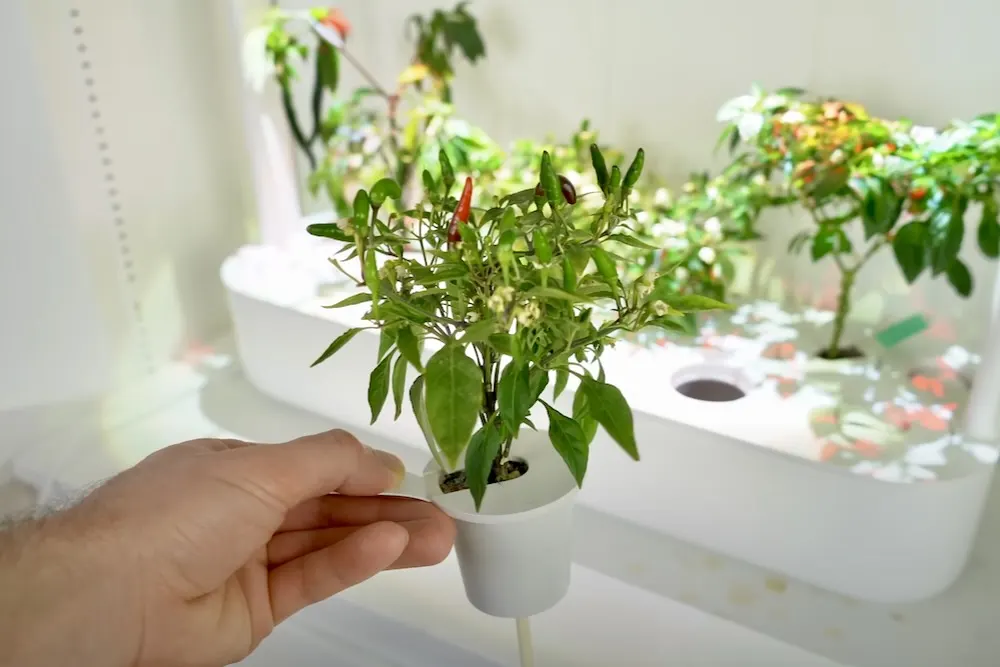 Once you have the pods planted, plug in the unit (ideally in the morning) to initiate the automated lighting cycle. The light turns on for 16 hours, off for 8 hours, every day.
Plant pods and fertilizer
One of my favorite features of the Click and Grow is the "smart soil" used in the plant pods. This patented "nano-material" contains all the fertilizer each plant will need, along with a good media for root growth and aeration.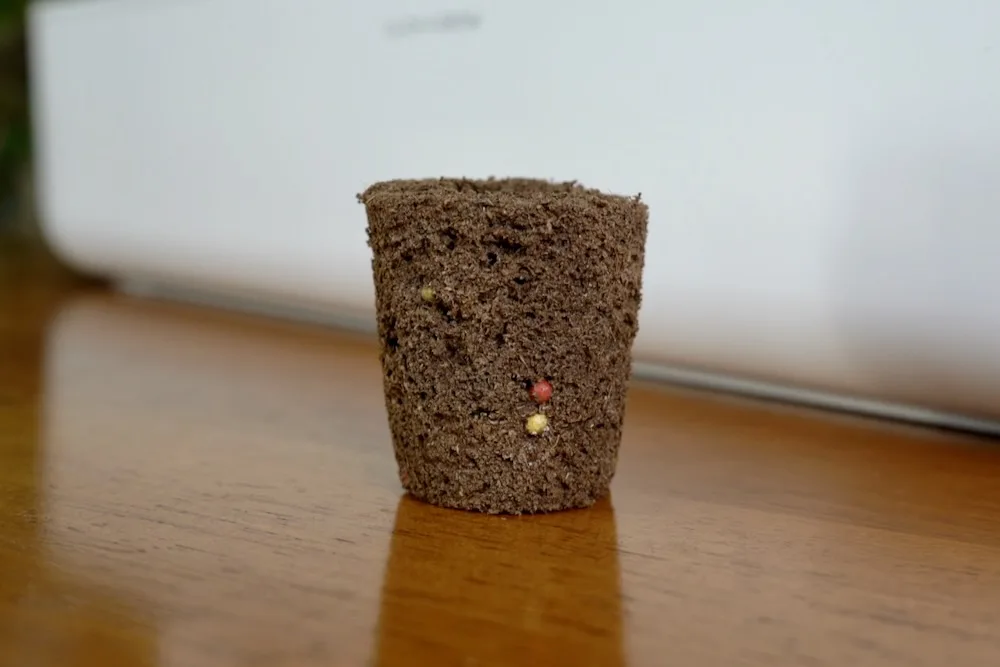 This keeps the process of growing incredibly simple. The only thing you need to do is top off the water reservoir when necessary, and wait for the plants to grow.
Once a plant has produced its crop and stopped growing, you can simply remove it from it's cup and replace it with a fresh plant pod. This makes cleanup much easier than an Aerogarden, and is another major perk of the Click and Grow.
---
Click and Grow Pros and Cons
There are benefits and drawbacks to the Click and Grow, but each grower has different goals. Keep these pros and cons in mind when considering which indoor garden to choose.
Pros:
Simple, clean design
Easy cleanup and plant replacement
No need to add liquid fertilizer
Almost 100% hands off, just add water
Great selection of plants to grow
No pump/filter required
Cons:
Light is fixed in place (optional risers are available)
Plant roots are constrained, meaning larger plants won't grow well
Expensive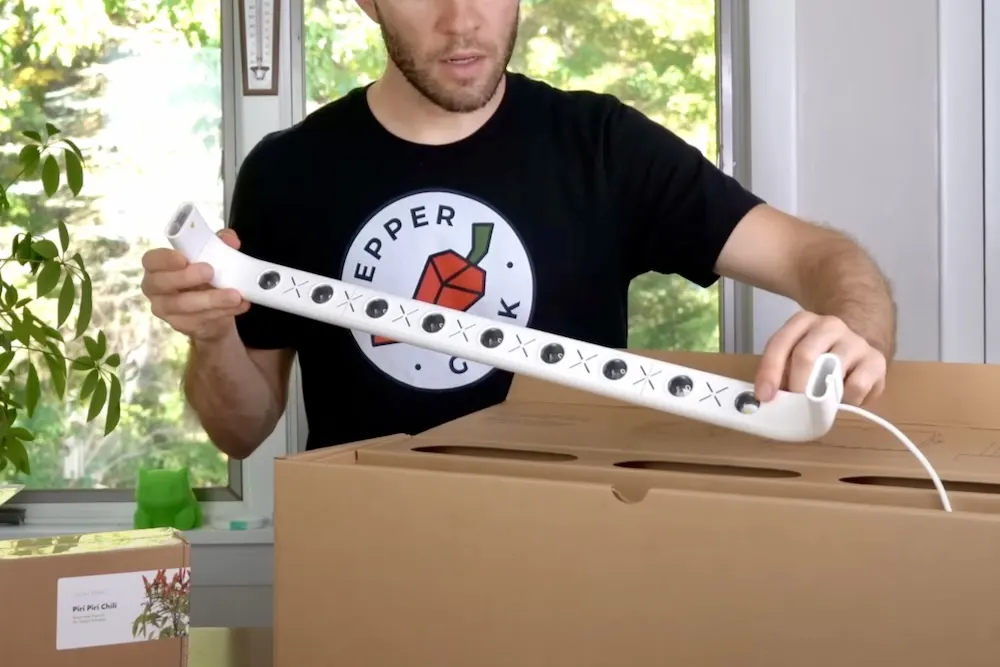 While the drawbacks may deter some, I think the benefits outweigh them. The smaller plant size can actually be viewed as a benefit. Our basil and lettuce plants stayed compact and manageable, especially as we harvested regularly.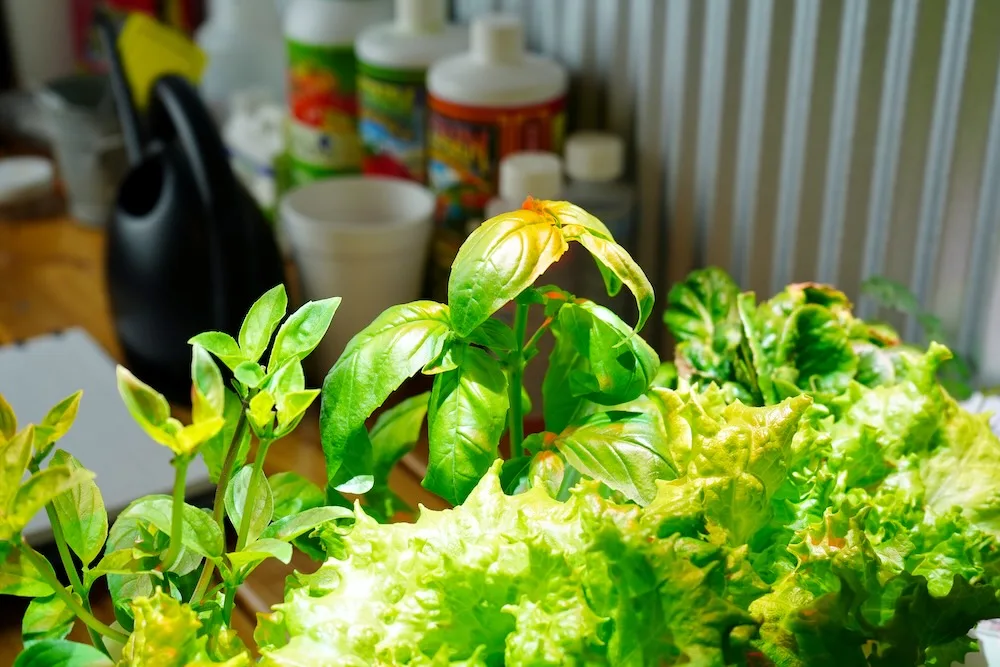 I think the Click and Grow is ideal for those who want to grow greens, herbs, and small fruiting plants (like cherry tomatoes and chili peppers). If you are hoping to grow large tomatoes or bell peppers indoors, this is not the unit for you.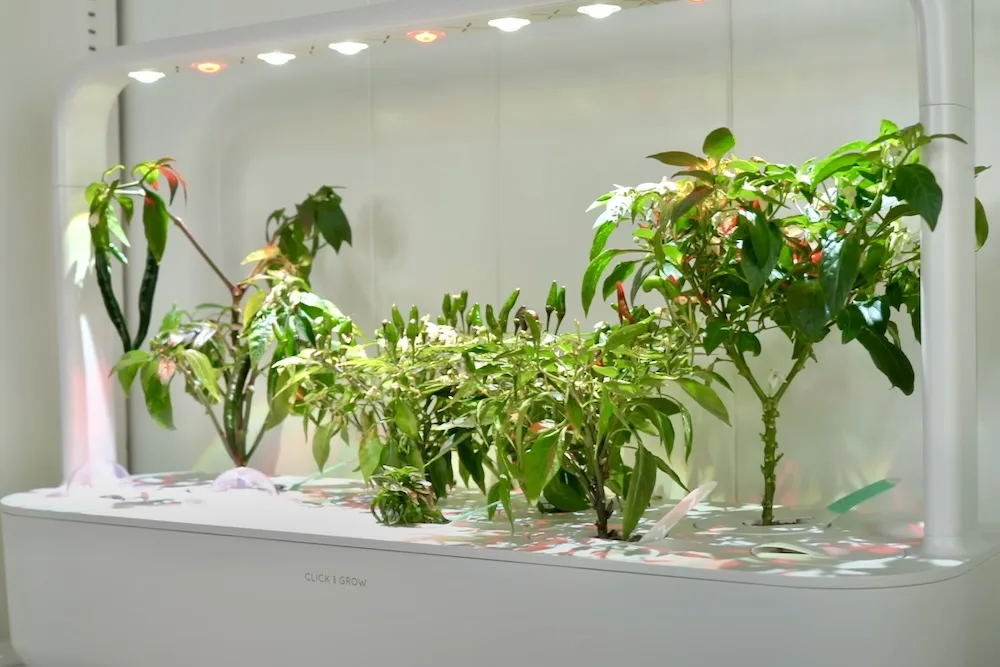 Overall, the Click and Grow is an excellent option for a simple, easy-to-use indoor growing system. The setup is quick and straightforward, and the plants grow with almost no effort. Add the fact that it looks good in the kitchen, and we're sold!
Click and Grow Review (Video):
Watch our full video review of the Click and Grow Smart Garden 9 on YouTube: