When it comes to easy side dishes, blistered shishitos may just take the cake. The flavor of the lightly charred peppers and a pinch of salt alone is enough to satisfy.
However, there are many variations you can try to keep this dish interesting. So, today we'll share the simple base recipe for delicious blistered shishito peppers, along with a few optional modifications.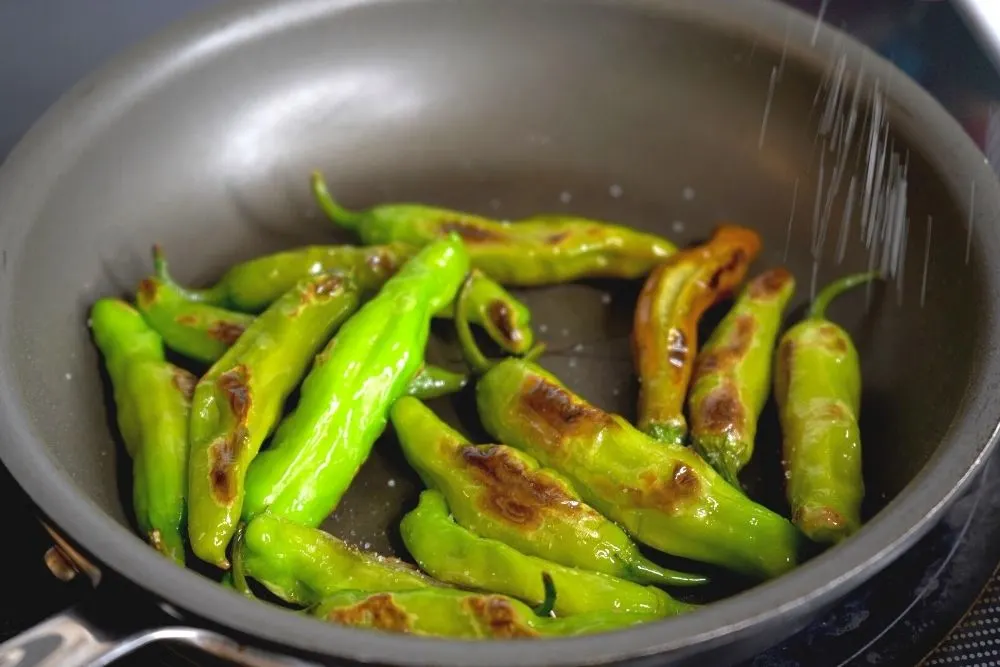 ---
Ingredients For Blistered Shishitos
The beauty of this recipe is its simplicity. With just a touch of oil and salt, we let the shishito peppers take front stage. However, like anything, you can feel free to get as creative as you'd like.
Basic Ingredients:
Fresh shishito peppers (washed and dried)
Olive or sesame oil
Coarse salt
Optional additions to play with:
Garlic (cook during the final 30-60 seconds of blistering)
Green onions or shallots
Ginger
Soy sauce (salt alternative)
Honey (drizzling)
Furikake (garnish)
Fresh lemon juice or zest (garnish)
Toasted sesame seeds (garnish)
Hot red chili flakes (spicy garnish)
If you grow your own shishito peppers (and you should), then you'll have handfuls of these tasty green chilies throughout the season. With tons of peppers, you should experiment with your blistered shishitos and see what delicious combinations you can discover.
---
How To Make Blistered Shishito Peppers
The best way to make blistered shishitos is by frying them in oil over medium-high heat. You don't want the oil to smoke, but to be just on the verge.
Steps:
Heat the oil in a pan over medium high heat.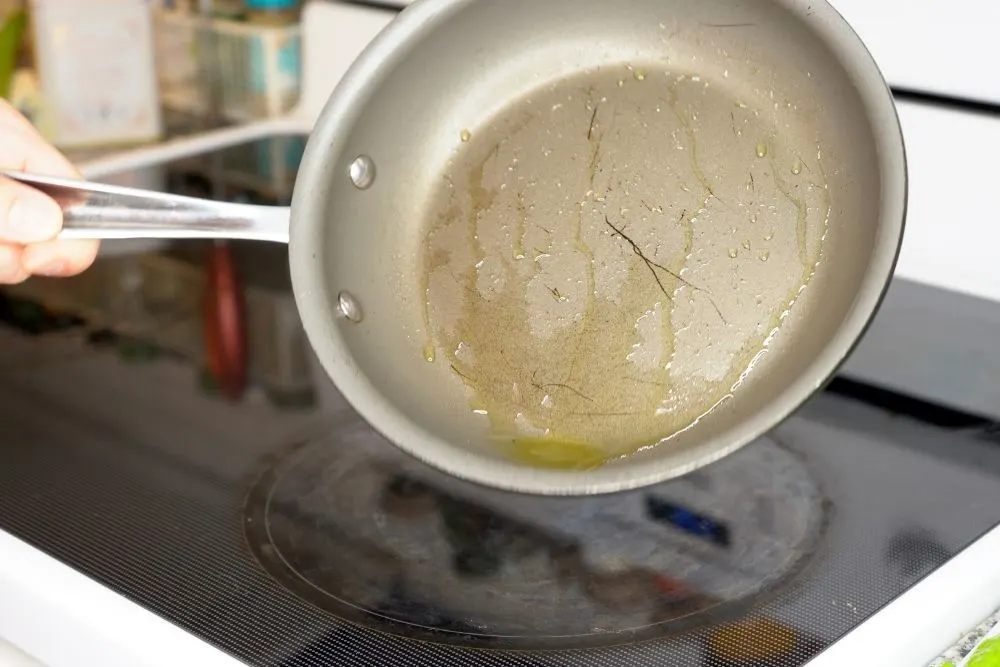 Once the oil is shiny and thin, add the shishito peppers. You should hear some sizzling and popping as the peppers begin to blister.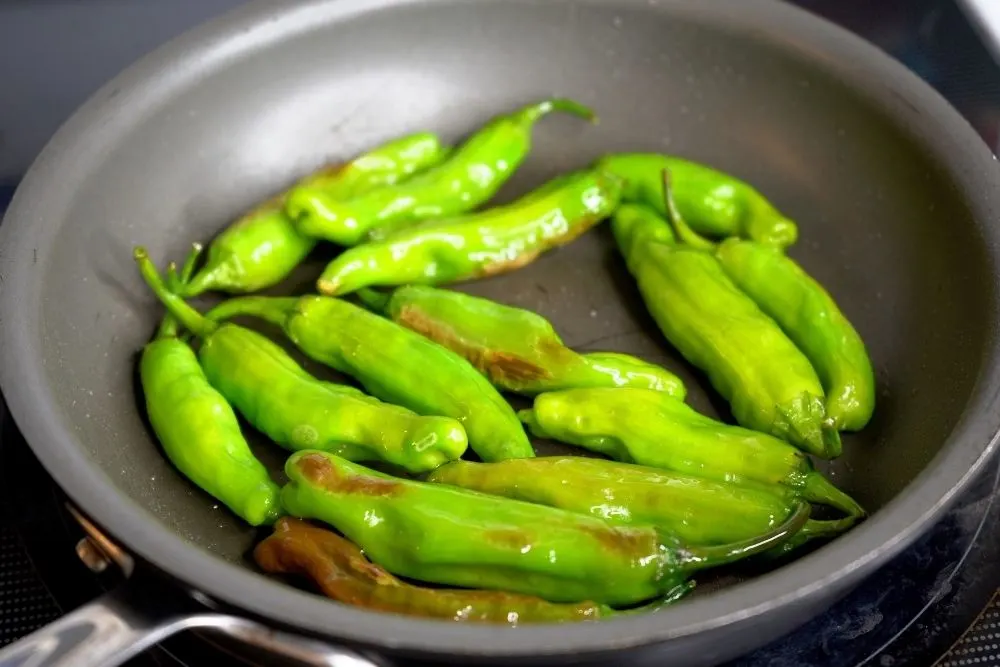 Sauté for 5-8 minutes, tossing the shishitos occasionally. Look for even browning on all sides of the pepper skin.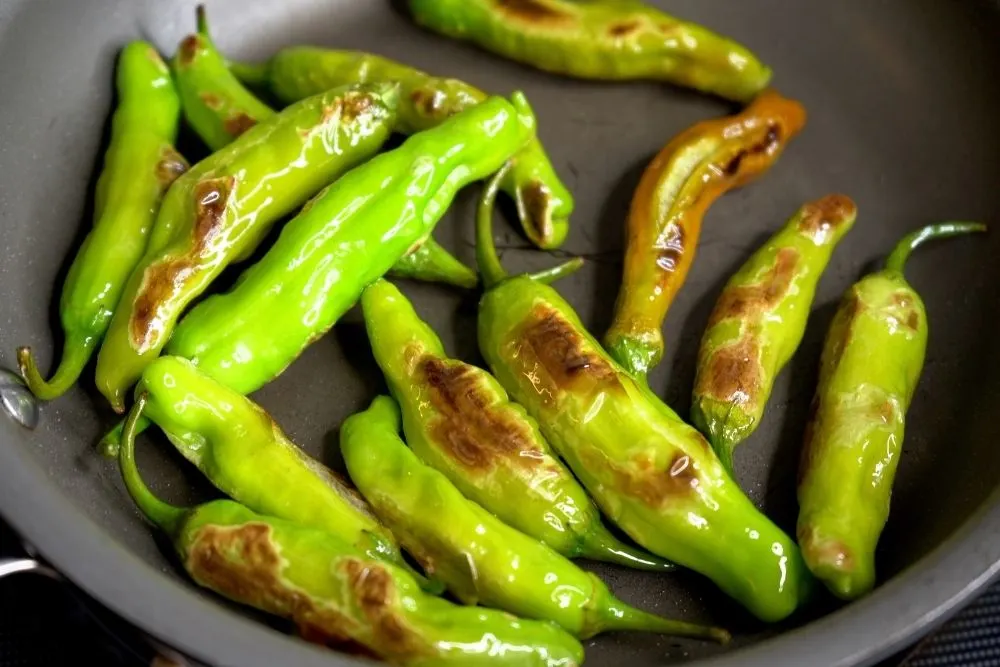 Once the peppers have collapsed slightly, remove from heat and sprinkle with a generous pinch of coarse salt.
Serve immediately!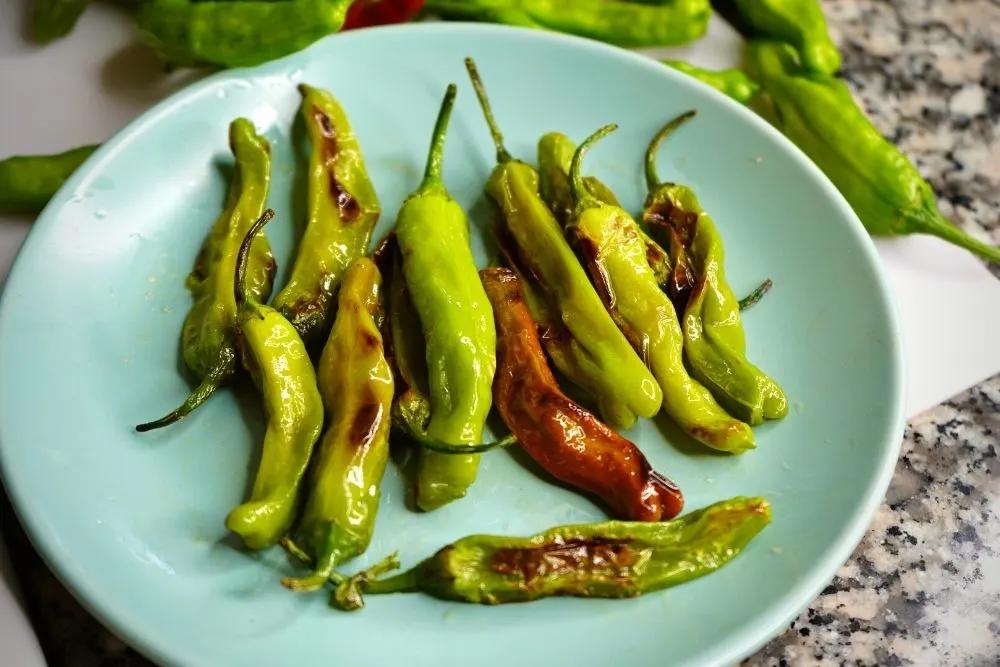 Since this recipe takes just a few minutes, I usually make it just before serving a main dish. Blistered shishitos are best when they are piping hot and fresh off the heat!
Tip: If your dinner involves a grill, try blistering the peppers on the grill! However, always be careful not to allow the small peppers to fall through the grate.
Can I Make Blistered Shishitos In The Oven?
Like many veggies, shishitos can also be baked in an oven and roasted. The end result is similar to sautéing, but it requires you to heat up the oven to a high temperature.
I prefer using a hot skillet or wok, but if you are mixing the shishitos with other veggies, oven roasting may work better.
Video:
---
Dips For Shishito Peppers
To dip or not to dip, that is the question. In my opinion, blistered shishitos are good enough on their own. However, if you're making an appetizer for a party, you may want to take things a step further.
Here are some great options for dipping shishitos:
Homemade aioli. If you like savory, try making your own simple aioli by mixing some mayo with a few common ingredients. Add a squeeze of fresh lemon juice, some garlic powder and chili powder for an easy dip.
Dumpling sauce. If you have a sweet tooth, try adding equal parts soy sauce and rice vinegar, plus some brown sugar to taste. This is one of my favorite go-to dipping sauces, and it certainly works with blistered shishitos!
Ranch dressing. The sweetness of the shishitos pairs well with the more complex flavors of ranch. If you love ranch, it will make for an easy dipping sauce.
---
Where To Buy Shishito Peppers
If you want to try this recipe, but can't seem to get your hands on shishitos, you're not alone. However, thankfully they are becoming easier to find in normal grocery stores.
Look in specialty grocery stores, or try an Asian supermarket. If you can't find them there, farmer's markets will often have a wide variety of peppers for sale in the summer months. Or, grow them at home in a small pot!
---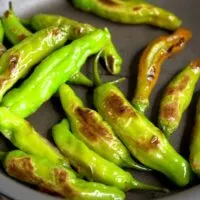 Ingredients
15

shishito peppers

1/2

tsp

olive oil

or sesame oil

1

pinch

sea salt

coarse/flaked
Instructions
Rinse and dry the shishito peppers. No need to remove the stems!

Add the oil to the frying pan and place over medium-high heat.

Once the oil is hot and shimmering, add the shishitos.

Fry the peppers for 5-8 minutes, tossing occasionally for even browning.

When the shishito peppers are evenly blistered, remove from heat.

Add a generous pinch of salt and toss to coat (see other optional toppings in the notes below).

Serve immediately and enjoy!
Notes
Tip: Use just enough oil to coat your shishito peppers. Too much oil and the peppers may become mushy or unappetizing.
Also, use a pan that is the right size to fit all of your peppers on a single layer. Don't allow the pods to mound on top of one another, as this may lead to uneven cooking.
Optional additions:
Toasted sesame seeds
Chopped garlic (cook for last 60 seconds of blistering)
Green onions or shallots
Soy sauce
Lemon juice or zest
I hope you enjoy this recipe and that it inspires you to grow your own shishitos. The plants are small, so easy to care for, and highly productive. Enjoy!