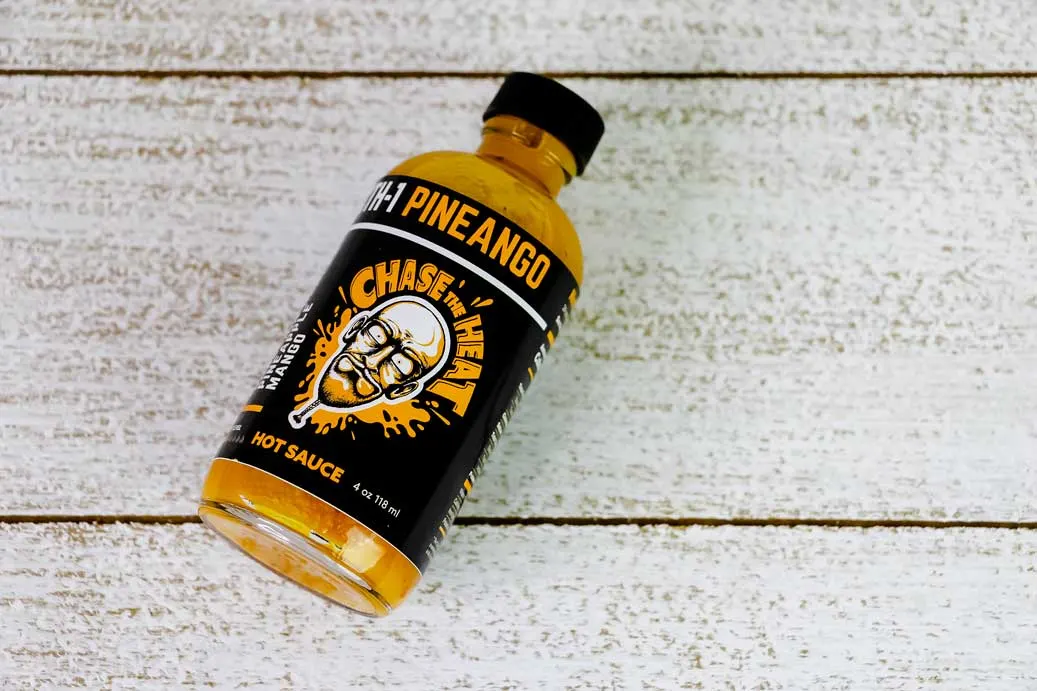 The famed Johnny Scoville has created a hot sauce! Don't worry, it's not absurdly spicy beyond your limits. It is, however, uniquely delicious with just the right amount of heat for spicy food lovers. It is called Chase The Heat CTH-1 Pineango hot sauce and it is unlike any other hot sauce we have tasted to date. We've tried it on a variety of foods, along with straight off the spoon. We're going to do a deep dive into the flavor, ingredients and spice level to help you know whether it is worth the money.
Buy It:
---
---

Pineango Hot Sauce Review
Johnny Scoville is well known on YouTube for taking on incredibly spicy challenges and tasting all of the hottest sauces and peppers out there. He once drank an entire bottle of The Last Dab, along with a whole bottle of the hottest hot sauce ever made. Johnny is highly aware that his tolerance is through the roof, so when he rates spiciness, he gives a 'chilihead' rating along with a 'non-chilihead' rating. The hottest thing you've ever eaten is likely a 1/10 on Johnny's heat scale.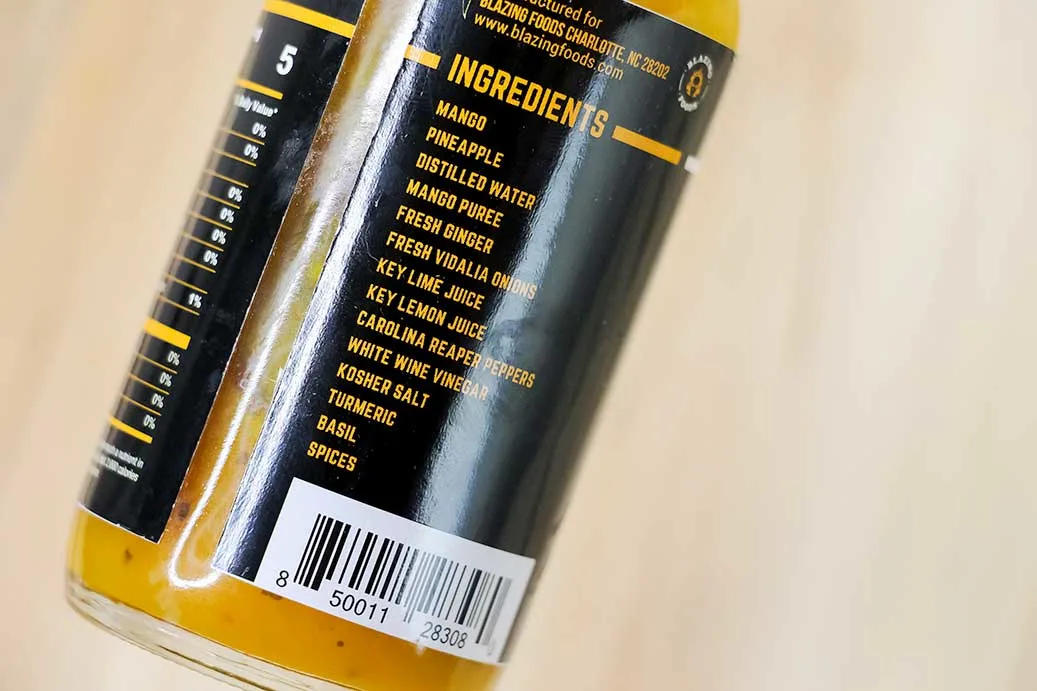 Now, Johnny has created a hot sauce and it is available for purchase now. He has plans to make something spicier, but for now, this is a great heat level for people with normal spice tolerance. Not only that, but it's delicious. Pineango hot sauce is like a sweet treat that can be enjoyed on its own in small spoonfuls. It also pairs well with most foods (like any good hot sauce should), but I found myself just going to the fridge for a bit of the sauce on its own.
Flavor
Very sweet, almost like liquid candy
Mango and pineapple (as the name would imply)
Carolina reaper flecks are visible in the sauce, perfect heat
Pair With
Tacos
Cheese & crackers
Add sweetness to anything savory for a nice dichotomy
On its own!
Tip: Johnny Scoville sells tasting spoons, but you can get a 2-pack of Caviar spoons on Amazon (like we did).
While this sauce won't be our #1 go-to sauce for all applications, it will certainly be the one we go to for tropical and sweet pairings. It works nicely on cheese and crackers or in homemade tacos. And don't forget to add a sweet-spicy kick to your next batch of salsa!
---
Pineango Hot Sauce Scoville Rating
The heat level of Pineango could be described as 'adequate.' While it won't knock you on your butt, it is no slouch on the Scoville scale. If you put any amount of Carolina Reaper peppers in your food, you're going to feel a burn. In the case of Pineango hot sauce, it is the 9th ingredient. However, that is plenty to give this hot sauce a respectable burn following the sweet and tangy flavor profile.
To put it simply, we estimate that Pineango hot sauce likely rates around 75,000 SHUs on the Scoville Scale. Though a precise Scoville rating has not yet been conducted, we can estimate based on our experience tasting many hot sauces with known Scoville ratings. There are Carolina Reapers in the sauce, but probably not too much in each bottle. Some sauces are almost purely Reaper peppers, and they are wildly spicier than Pineango. We prefer a tamer sauce like CTH-1 with lots of flavor and reasonable heat. Well done, Johnny!
---
Pineango Hot Sauce Consistency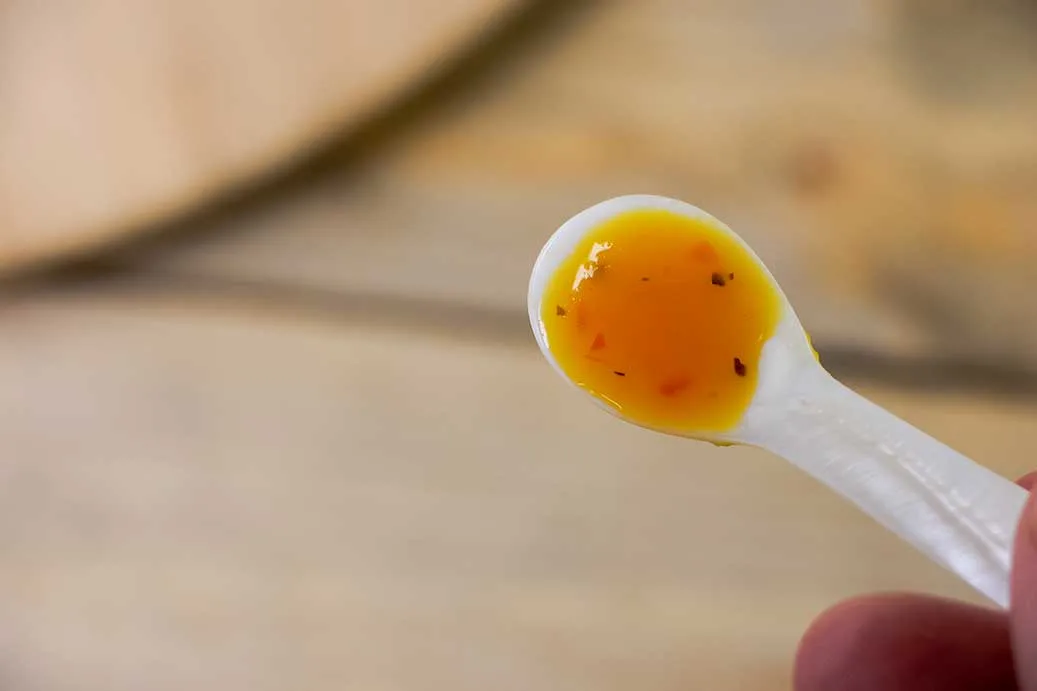 Consistency is key. Some hot sauces are incredibly thick and difficult to pour. Others come cascading out of the bottle, causing unintentional over-pouring. Pineango hits the mark with a smooth, easy-pouring consistency with some small chunks for good measure. The spout is relatively small, but it never gets clogged or stuck. While it pours smooth, the high-sugar content makes it seem thick and creamy in the mouth. This hot sauce will hold its shape on a spoon, almost like a bead of water being held up by surface tension.
---
How Much Is Pineango Hot Sauce?
Hot sauce prices seem to be ever-climbing in the age of Hot Ones and Heatonist raising interest in the industry. However, we understand that a lot goes into creating a high-quality hot sauce. Pineango costs $13.50 plus shipping on Johnny Scoville's website, making this a rather expensive hot sauce. The bottle also contains just 4oz of sauce, meaning it is 1oz smaller than a standard woozy hot sauce bottle size.
Though this price is somewhat steep, the sauce is completely unique. It is sweeter than most and more tangy and zesty. It may not be for everyone, especially considering the price, but we are happy with our purchase.
---
Is Pineango Worth It?
We weren't not going to try a hot sauce from Johnny Scoville. And when he makes another, we'll buy that too. However, we realize that ~$20 (with shipping) for a 4oz bottle of hot sauce may be hard to justify for some. So let's put it this way, if you're a hot sauce connoisseur, this sauce deserves a taste and a spot on your shelf. It would also make a great gift for the hot sauce lover in your family. However, if you're content with using Frank's RedHot, Pineango's price tag may simply be too much to justify the buy.
We like the hot sauce a lot, and we can't wait to see what CTH-2 brings!
Get your own bottle on Johnny Scoville
---