Here at PepperGeek, we've tried quite a few meal delivery kits. We've even tried the imperfect produce delivery kits, the smoothie kit boxes, you name it. Sun Basket caught our eye for a few different reasons. Here are a few things we love about Sun Basket:
Diet-specific meal plans. You can choose from Paleo, Vegan, Dairy-free, Soy-Free, Gluten-Free, and even Mediterranean Diet meals. No other meal delivery kit we've seen has this many options!
Seasonal organic produce. We try to eat organic as much as our budget allows. If this is important to you, you'll be happy to know that Sun Basket strives to ship organic produce 100% of the time.
Antibiotic-free meat and sustainably sourced seafood. We care about where our meat and fish come from. You can also upgrade to organic meat with select recipes.
Chef Justine Kelly. We love that that the Sun Basket recipes have an executive chef behind them. All the recipes are delicious with thoughtful ingredients.
Click Here for $40 Off Your First Sun Basket Order! (Or $20 Off If You Order Less Than $60)
How Much Is Sun Basket? 
If you're looking to see how much Sun Basket costs, it depends on how many dinners you are ordering. See the chart below for a breakdown of how much the box costs each week.
2 Dinners (For 2 People)
Serving Price
Order Sub Total
$12.99
$51.96
3 Dinners (For 2 People)
Serving Price
Order Sub Total
$11.99
$71.94
4 Dinners (For 2 People)
Serving Price
Order Sub Total
$10.99
$87.92
All orders are subject to a $7.99 shipping fee and may be subject to tax depending on your zip code.
As you can see, Sun Basket is more expensive than a few other meal delivery services. In fact, the Sun Basket cost is one of the reasons why we waited so long to try. However, we enjoy the selection of recipes and quality of ingredients in each box. It's currently the only meal delivery kit that we're subscribed to. You can skip a Sun Basket week, or easily cancel your subscription at anytime.
What Is Sun Basket? (What To Expect)
Sun Basket is one of the many meal delivery services on the market today. When your first box arrives, you can expect all of your meal ingredients to conveniently be broken up into separate bags. Don't worry, Sun Basket is extremely committed to being environmentally responsible.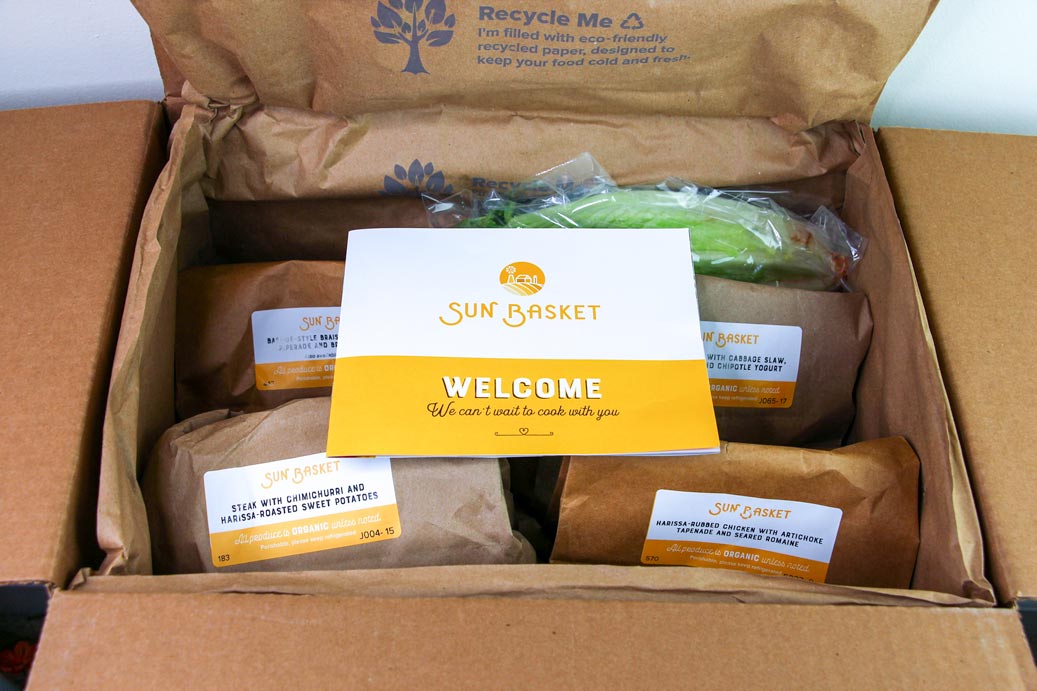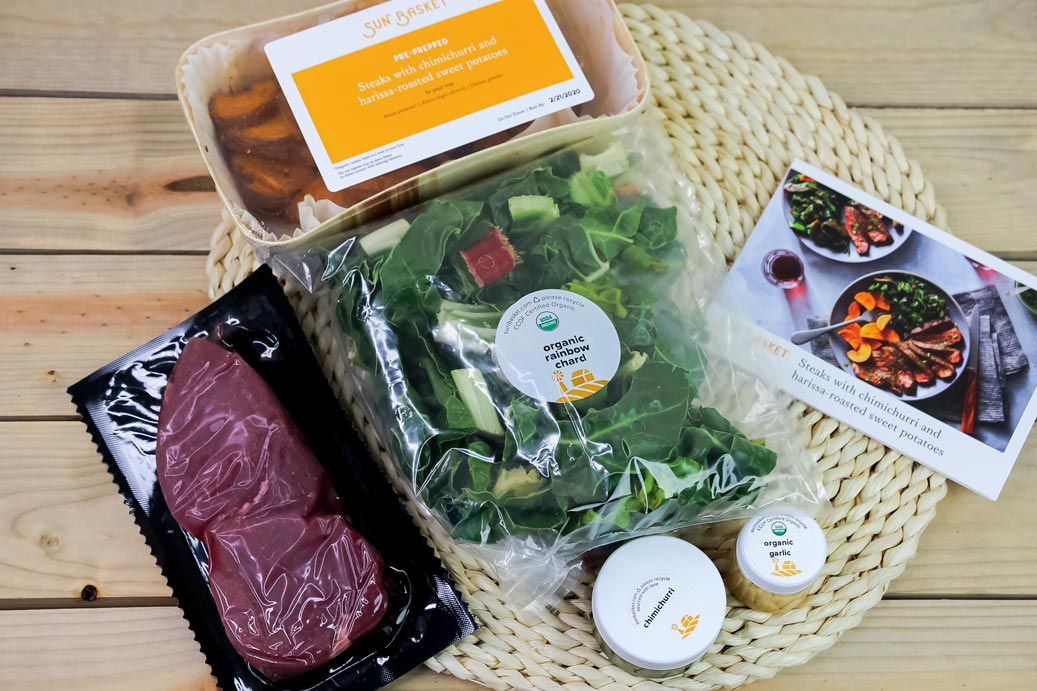 So you can get an accurate idea of how much food comes in each box, I disassembled the meal kits.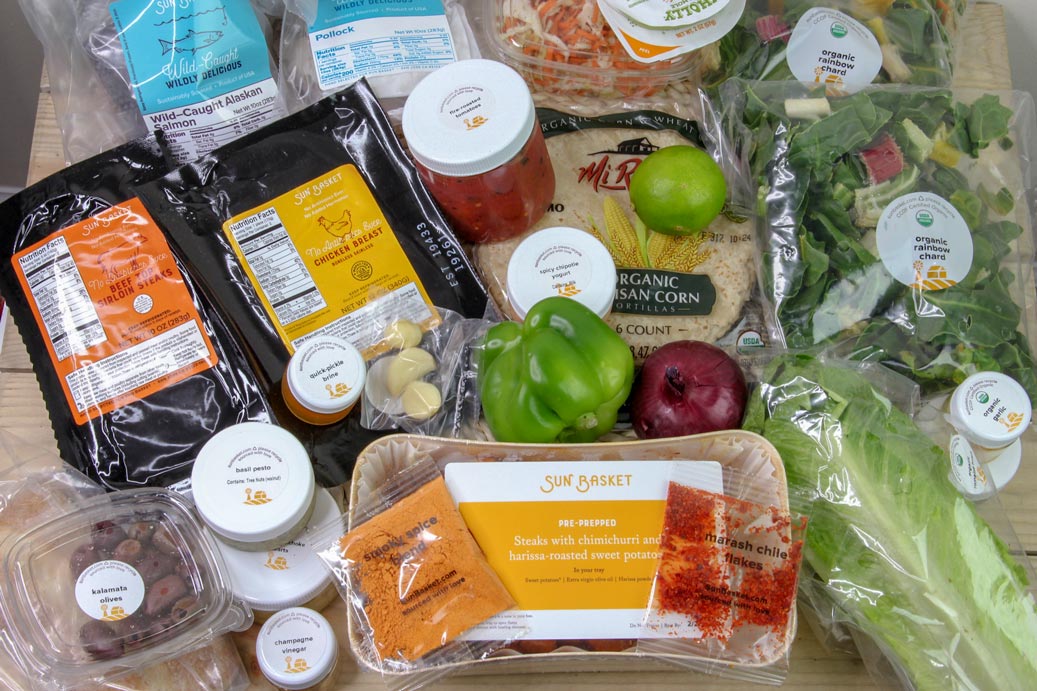 As you can see, there is a good amount of food in each box! We absolutely love the plastic containers the ingredients come in. We wash and reuse them for taking salad dressings or hot sauces on the go!
Sun Basket Recipe Reviews
Steaks with chimichurri and harissa-roasted sweet potatoes: Chimichurri is an Argentinean steak sauce that packs a bold, herbal flavor. On its own, we didn't care for it much. However, it definitely boosted the flavor of the steak. There's something about harissa that goes so well with roasted sweet potatoes. In fact, I even bought some harissa powder so I could make the potatoes on my own! They make a great side dish that's full of flavor with just enough kick.
Harissa-rubbed chicken with artichoke tapenade and seared romaine: After this box, I went on a bit of a harissa kick. Not only does harissa compliment sweet potatoes, it tastes great on chicken too. Have I ever seared romaine lettuce? Absolutely not. This recipe is an outstanding example of why I love Sun Basket. It makes you try new things with ingredients that you may have grown tired of. This recipe is Paleo and makes a great lunch. You'll finish it and feel full, not bloated.
Basque-style braised pollock with piperade and broccoli leaves: Before signing up for Sun Basket I had never tried broccoli leaves. They're a unique ingredient and I'm always excited to get them as a side. While we don't eat pollock much, it was a great to try this recipe and have explicit direction on how to cook and flavor it.
Salmon tacos with cabbage slaw, salsa roja, and chipotle yogurt: If there is one thing I know for certain, it's that you can't go wrong with tacos. The chipotle yogurt in this recipe was the perfect taco compliment. I'll admit, I added some spicy sauce to these only because I like that extra kick. It was refreshing to use salmon for tacos instead of our usual chicken or ground beef. The cabbage was the perfect crunchy compliment to this dish. 
Spicy harissa tofu and quinoa bowls with carrots and chickpeas: I've never been an enormous fan of tofu. (Unless it's fried in Pad Thai). This dish would have been better with organic chicken strips substituted. The harissa seasoning is great, and I know it would taste fantastic on chicken. I loved the mixture of quinoa, carrots, and chickpeas. Overall, I was happy with what a healthy lunch this meal made. 
Steaks and Romesco with baby broccoli, summer squash, and almonds: This dish is labeled as "Lean and Clean" and "Mediterranean". I loved that they already prepared the Romesco sauce. This made it easy and quick to cook a delicious dinner. I also love baby broccoli and wish it were easier to find in the grocery stores. This is another side dish I'm excited to receive in my Sun Basket boxes.
Mediterranean turkey kebabs with carrot and squash ribbons: This was one recipe that came out looking nothing like the beautiful photo. My kebabs were lumpy, too large, and just plain ugly. None of that mattered, though. They tasted great! If I'm being honest, the fact they looked so weird was definitely my fault. I had a lot of difficulty shaping them just right for the kebab sticks. I'm an enormous fan of carrot and squash, so making them into delicate ribbons was the perfect side. 
Tex-Mex black bean and quinoa bowls with guacamole: Anytime Sun Basket sends a Tex-Mex dish, it's always a hit. The flavors are always delicious and you can never go wrong with guacamole. The best part about this one? It's an oven-ready dish! You just cook it and throw it on a plate. We always save the oven-ready meals for when we're in a rush and don't have time to chop vegetables or prepare food from scratch.
Spicy Sichuan dan dan noodles with tofu and spinach: This was another oven-ready meal that I was really excited to try. Unfortunately, it didn't quite meet my expectations. In my experience, the fresh-cooked meals are much tastier than the oven-ready meals. However, you just can't beat the convenience of the oven-ready meals when you're in a rush. It's also a much better alternative to a frozen meal or something that may be full of preservatives. 
Quinoa and tofu bowls with cashew-lime dressing: What really made this dish was the cashew-lime dressing! I wish I could stockpile bottles of it. Quinoa and tofu are always very bland on their own, but the dressing kicked it up to a whole extra level. We like to have a few days during the week of eating plant-based, and this lunch kept us satisfied for hours. 
Curried chickpeas, new potatoes, and zucchini with basmati rice: I couldn't believe this recipe was vegan! It was incredibly filling and flavorful. After cooking this recipe, I started buying basmati rice in the store. We found this recipe easy to make on our own because we always have the ingredients on hand. (We had to improvise on the sauce a bit.)
Seared salmon with chimichurri and Provençal vegetables: When it comes to chimichurri, we definitely prefer it on our steak. We feel as though this dish would have been better with a different sauce. We've always been satisfied with the quality of the vegetables that come in our Sun Basket, and this one was no exception
Is Sun Basket Worth The Cost?
When looking at how much Sun Basket costs compared to other meal kits, you'll be spending a bit more. However, we believe the quality ingredients and variations of healthy recipes make it worth it. As with any meal service, you're paying for the convenience of quality ingredients being delivered to your door and avoiding the markets. There's never that dreaded question of "what's for dinner tonight?". It's nice having the option to skip a week or two when we want to experiment with recipes on our own. If you decide to try out Sun Basket, be sure to use our promo code for $40 off (Crystalyn2855524). We'd also love to know what you think after your first delivery – so come back and let us know!