So your mom is a backyard gardener too, eh? Well, it is an awesome hobby that almost anyone can enjoy. Whether mom has a raised garden bed, indoor plants, or just a sunny balcony with some herbs, it's all the same passion.
With spring weather fast approaching, we've put together the very best gardening gifts for mom this year. If you're looking for Mother's Day gardening gifts, or just the perfect gardener birthday present for mom, we've got gift ideas for you!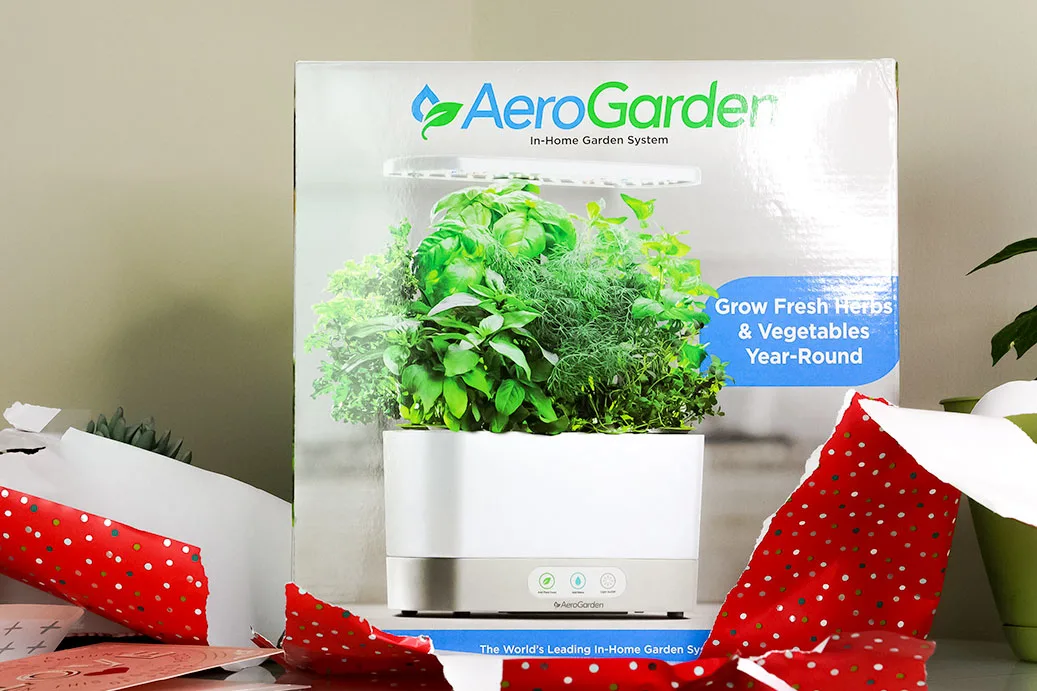 ---
Waterproof shoes are a must-have for any outdoor gardener. Keeping the dirt out of your socks is essential! Sloggers are the perfect way to do this at an affordable price. We love all of the quirky colors and patterns they have available. They also offer a larger full-sized boot for more protection in the garden. Get one of the cool, funky designs or a more conservative plain black – whichever you think your mom would prefer!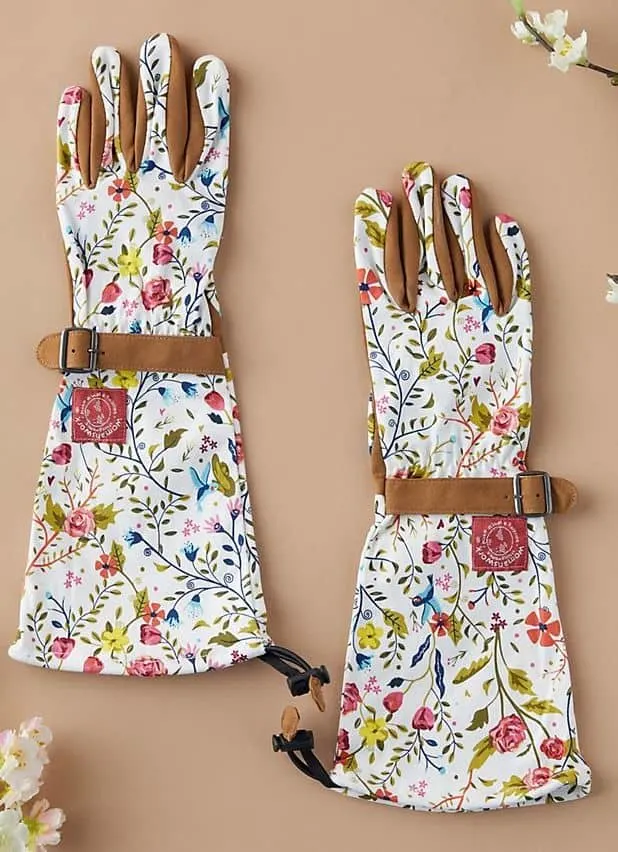 Every gardener needs a pair of quality gloves. These long gloves are made of faux leather, cotton and spandex for a comfortable fit. The floral pattern will put a smile on any gardener's face. The long design is also great for avoiding scratches and dirt on the forearms while working hard in the garden.
They also have straps and an elastic string to make sure they stay in place while weeding or doing other strenuous garden work.
We love using our Aerogarden. It's a great way to continue gardening indoors throughout the chilly New England winters. We've grown everything from peppers to herbs in our garden at home.
The best part of the Aerogarden is the soil-free gardening format. The seeds sprout faster, the plants grow significantly quicker, and maintenance is super simple. Just add water and nutrients, then watch the plants come to life!
Read our full AeroGarden review here.
There are multiple units available with a variety of seed pods for sale as well. If your mom likes to cook with fresh herbs and spices, the Aerogarden will allow her to grow them right in the kitchen! Just watch out, our cats tend to like the fresh plants as much as we do.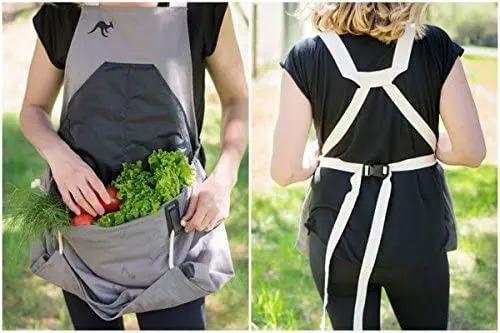 Any item that makes gardening easier and more enjoyable is a huge win. Short for Kangaroo, The Roo gives gardeners a handy front pouch to store gardening tools and produce. With just two hands, harvesting and pruning can be a difficult task. With a dedicated pocket for holding all sorts of gardening gadgets, The Roo helps keep your hands free.
It comes in a variety of colors (red, green, gray, pink and purple), and is both durable and easy to wash. The one-size-fits-all format means no guessing the right size, mom can simply adjust the waist size and get back to gardening!
Pruning and harvesting can be hard on the hands, especially with a large garden. With a strong, durable pair of pruning shears, life becomes a lot easier. If your mom has a bigger growing space, or has other small plants around her yard that require trimming, these garden scissors are a great gift idea.
We love the large finger holes on this particular pair that allow gloves to easily fit through. They are also made of strong black carbon steel. The sharp blades help avoid plant bruising when harvesting or pruning away branches.
Note: These are great for smaller plants like peppers and tomatoes, but won't provide enough leverage for larger bushes or trees.
Gardeners tend to spend a lot of time out in the bright sunshine. Although we advocate for early morning gardening, sometimes the only time moms can get out into the garden is when it is hot and sunny. A wide-brimmed sun hat will protect mom's scalp and neck from the sun's harmful rays while she's hard at work in the garden.
See our list of the best gardening hats here.
This particular hat keeps it stylish and has a lanyard to protect from the wind. There are a few color options, but Amazon also sells a variety of other styles. Browse around for the perfect look for mom!
A Hori Hori is basically a sharp knife that is made for use in the garden. The blade is made with fine Japanese steel and comes with a built in measurement system imprinted on the blade. This helps measure the depth when planting seeds or plant starts.
But why a knife? The sharp blade is designed to easily push into the soil, making transplanting a breeze. It can even be used to cut branches with its one serrated edge. Be careful though! This thing is very sharp, hence why it comes with a leather sheath for storage.
This garden wagon won't let mom down. Great for moving soil, mulch or potted plants around, this wagon is the perfect garden helper on wheels. It also has a tilt feature that allows for easy dumping.
All of this riding on true pneumatic tires for easy wheeling across bumpy terrain. Save mom's back this year with a heavy-duty wagon that is rated for up to 600 lbs of supplies!
No one is immune to knee pain, especially avid gardeners. Spending hours kneeling on the hard ground leads to aches and pain. If you can't garden comfortably, less will get done.
With a lightweight foam kneeling pad, mom can spend much more time in the garden, comfortably! We would never be caught planting, weeding or harvesting without one of these lifesavers.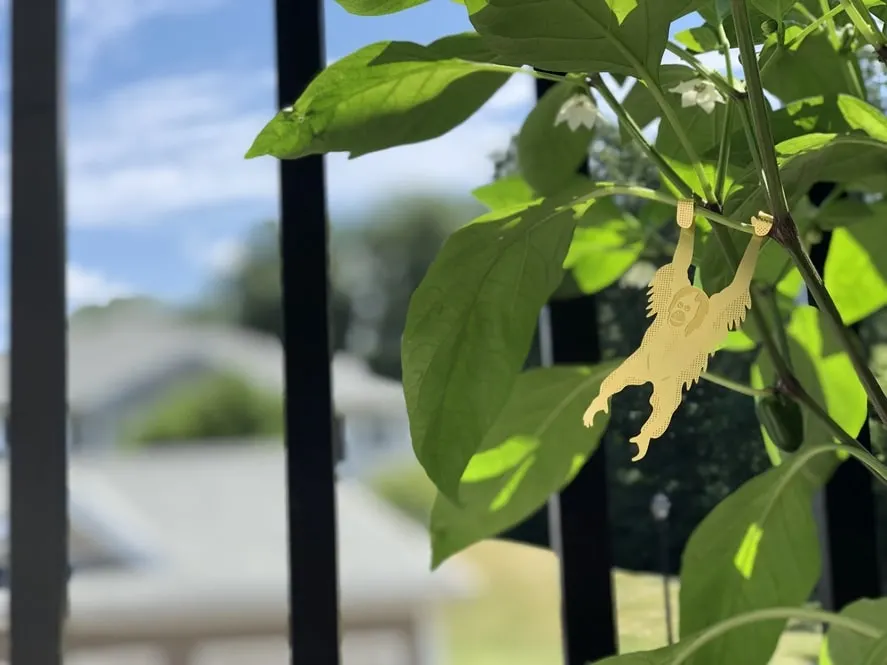 This one is for the fun moms. We like to keep our gardening light-hearted, so we have one of these adorable little 'plant animals.' We sprang for the orangutang, but they also have a praying mantis, a fruit bat, a tree frog, a sloth and more plant buddies.
They are made of very thin metal and attach to plant branches by simply bending the hands. If mom is a quirky gardener, this might be the perfect gift to bring a little cheer to her plants! Bonus: you can also fit one of these guys into a greeting card.
This watering can is both functional and beautiful. The size is small, so it won't be enough to water a large outdoor garden. However, if your mom gardens indoors with smaller houseplants, this watering can might be the perfect style to keep the home decor appealing.
Note: This watering can is very small, it only holds about 30oz, or just under 4 cups.
This sturdy, collapsable tool carrier is a great way to keep all of the garden tools together. We love the rigid circular rim, keeping the center open for storing larger objects or harvests. The multiple pockets around the edge store trowels, gloves and other tools snugly.
This particular caddy comes as a 9-piece set with gardening tools, gloves and a spray bottle. If mom doesn't need all of the tools, perhaps just the Roo apron mentioned earlier would be a better option.
Keeping the garden organized can be a challenge. Ideally, mom will have everything planned out ahead of time, but this can also be tricky. Make things a bit easier on her with these attractive bamboo plant markers.
All mom has to do is write in the plant names and stake them into the soil. Both helpful and appealing for a neat, attractive garden. Another benefit: these are not plastic, but rather bamboo, so they are biodegradable.
Give mom's gift a personal touch and try our DIY plant markers!
Some gardeners want to know more about the complicated workings of plant life. I happen to be one of those people, and this book is a great resource for learning simplified botany. It will help mom understand how things like pruning work and why it should be done.
If your mom is a reader, this gardening book will surely pique her interest and provide some entertainment. The gorgeous artwork and simplified wording make this a relatively easy read with fascinating details about plants.
While this garden 'gnome' won't appeal to all gardening mothers, we happen to find it quite charming. As cat owners, we understand just how mischievous they can be. Recently, one of our cats got into our pepper plants, almost completely devouring the leaves (but it is making a surprising comeback).
This gnome-eating cat statue could make mom smile when she's out there working in the garden. If she's not a cat person, maybe a less feline garden statue would be an apt gift.
If mom jumped on the succulent bandwagon, these incredibly creative planter pots are amazing. There are a ton of different options, all with the same artistic direction. These pots are intended for small succulent plants, but could be used for other small herbs if that's what mom wanted. We particularly love the owl home – it's almost like you get your own tiny helpers to take care of your plants!
Maybe mom is more of an aspiring gardener. Well, set her up and get her started this year with a raised garden planter. These are easy to set up and offer easy-access to your plants. That means no back-breaking work to tend to the garden's plants.
It also means the garden can be located almost anywhere outdoors. This specific unit even has wheels for moving the bed around if desired. All mom will need is a few garden tools, some soil, and seeds to get her first garden started. Exciting!
---
I hope this helped you find the perfect gardening gift for mom this year. We love exploring new garden products each year that can help make life easier for growers. If you have any gardening gift ideas for Mother's Day, let us know in the comments below!