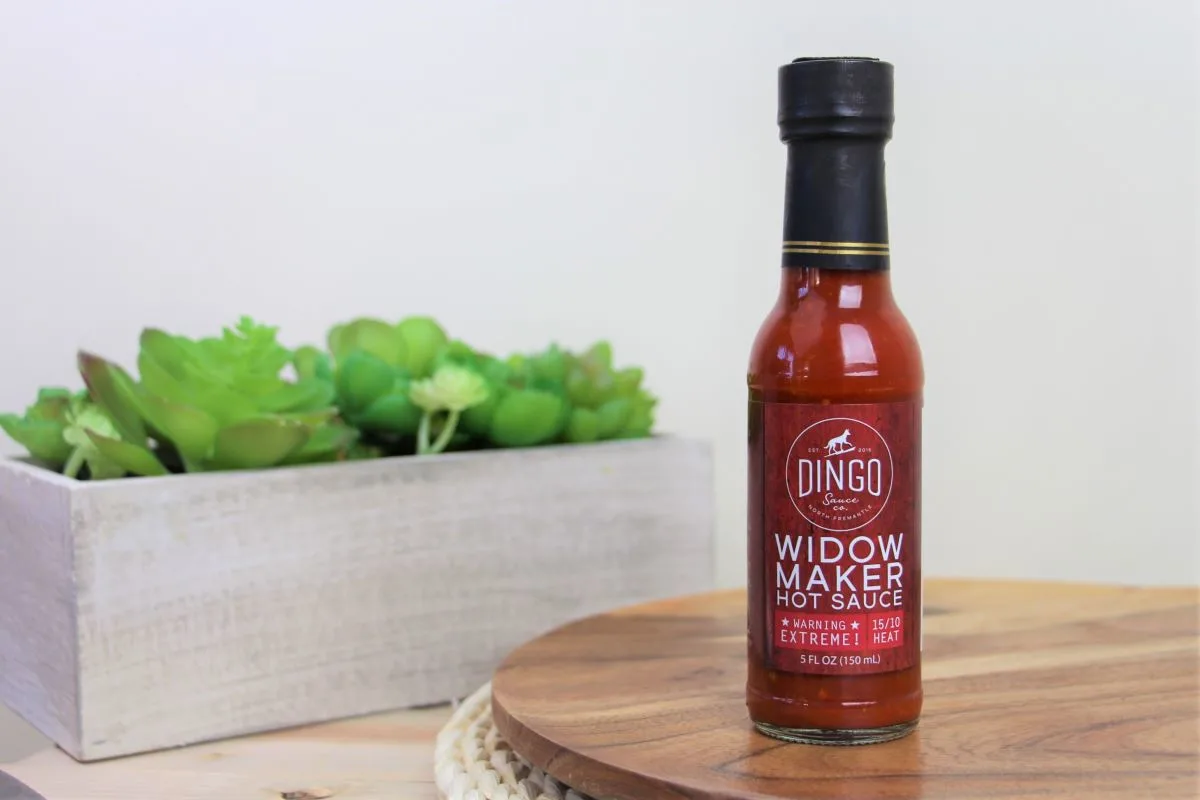 Dingo Sauce Co. comes to us from, you guessed it, Australia, mate! Hailing from Perth, Chef Leigh Nash has been crafting unique flavors in his cuisine for over 25 years. Some of the best things in life happen accidentally, and apparently that is the case with the Dingo brand as well!
Nash had a fascination with Asian food and especially the use of hot chili peppers. Widow Maker hot sauce is one of their hottest sauces and was placed in the number 9 spot on Hot Ones season 11!
Widow Maker has a name to suit the ferocious heat that is within the sauce. With a blend of 6 superhot peppers, this sauce is for true PepperGeeks only! Don't mess with this stuff unless you like things seriously hot.
However, with the heat comes an all-natural recipe that brings real flavor and usability (in small amounts). Though it is likely far too spicy for most to eat raw, its flavor may complement a large meal nicely. Thanks Chef Nash!
Get Some:
*Use our unique referral link and save $10 when you spend $40 or more on Heatonist!
---
---

Widow Maker Hot Sauce Review
As with any highly spicy hot sauce, the first tasting of Widow Maker came with a bit of trepidation. I went in with a small dab on the tongue and allowed the sauce to build in heat and taste.
It's hot, but I was surprised at how manageable the heat was. Some sauces unforgivingly smack you in the face on contact.
The Widow Maker is a bit more docile, with a gentle build in heat. Don't get me wrong, the heat level is high, and I didn't eat much. However, the all-natural pepper recipe, which includes lime, is likely what gives this sauce its even-tempered burn.
Flavor
Classic superhot pepper flavors upfront
Sweet, with a hint of garlic and smoke
Pair With
Add to soups and stews for flavor and heat
Mix with sour cream or mayo for a spicy dip
Add to salsas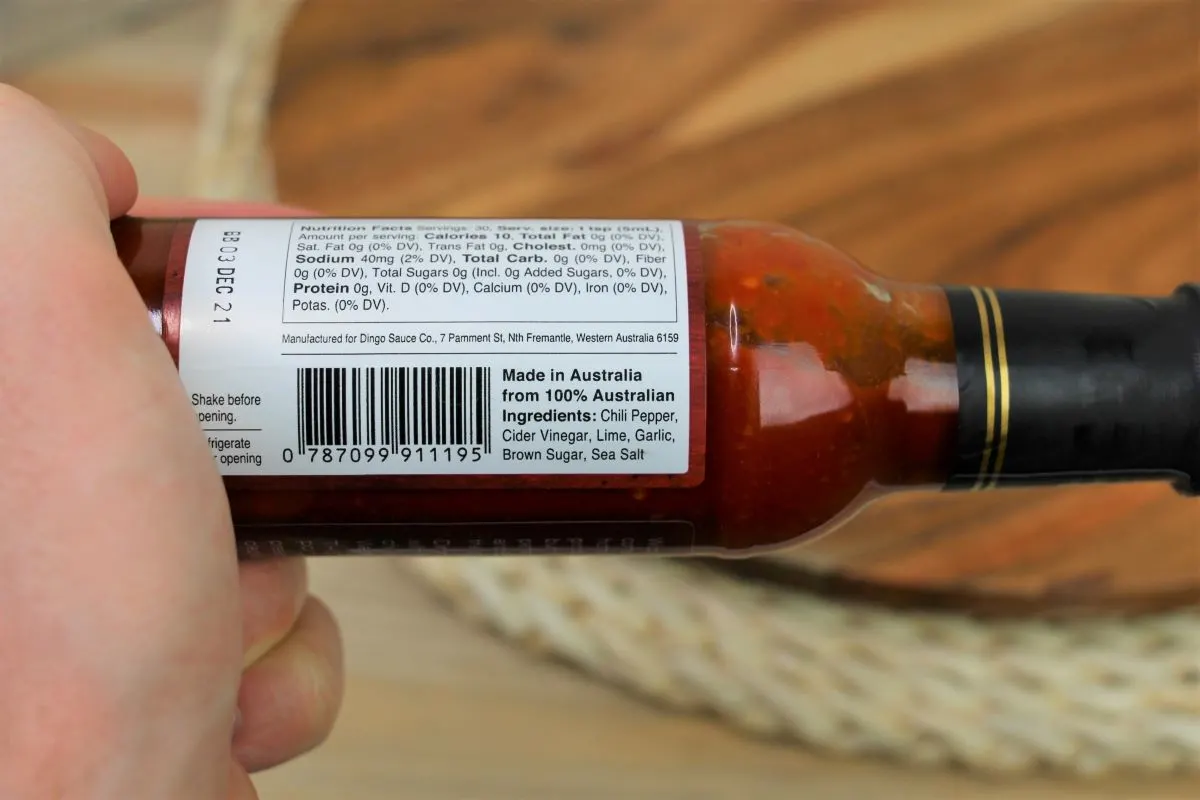 Tip: Don't eat it off a spoon – try mixing a bit in with salsa or chip dip to avoid a more aggressive burn.
What Types of Peppers Are In Widow Maker?
The first ingredient listed on Widow Maker hot sauce is simply 'Chilli.' However, we found the exact varieties of peppers used in the sauce, and they're no joke. The 6 varieties of pepper are some of the hottest known to man.
The peppers used in Widow Maker include Carolina Reaper, Ghost, Moruga, Butch T, Naga Viper, and 7 Pot peppers. No wonder the flavor has such a pronounced chili pepper taste – it's basically a bottle of blended superhots!
---
Widow Maker Hot Sauce Scoville Rating
Widow Maker lives up to its name in heat. While Dingo Sauce Co. declares that the heat rating is a whopping 15/10 (hmm..), there is a more scientific method for determining spiciness. Since this hot sauce took the number 9 spot on Hot Ones season 11, we expected a big number here, and we weren't disappointed.
Put simply, Widow Maker hot sauce comes in at 682,000 SHUs on the Scoville Scale, making it one of the hottest natural sauces we have ever tasted. This means that the modest 5oz bottle will last a long while in our fridge.
---
How Much Does Widow Maker Cost?
Most gourmet, all-natural hot sauces demand a premium over cheap storebought brands. However, the Widow Maker takes pricing to the next level.
One of our gripes with the sauce is the immense price tag for a sauce that will only appeal to extreme spice lovers. Widow Maker currently costs $18 on Heatonist.
We like the flavor a lot, but for us, the price would deter us from buying again. Not that we'll ever have to, because 5oz will probably keep us supplied for a year or longer!
---
Widow Maker Hot Sauce Consistency
With a large spout and a glass bottle, the Widow Maker pours slowly, but evenly. Some sauces, like the Last Dab, are extremely thick and difficult to pour. However, Widow Maker has a nice, viscous texture that doesn't run too easily, but won't get stuck in the bottle either. This is exactly what we want from the very spicy sauces – it helps us avoid the dreaded over-pour catastrophe.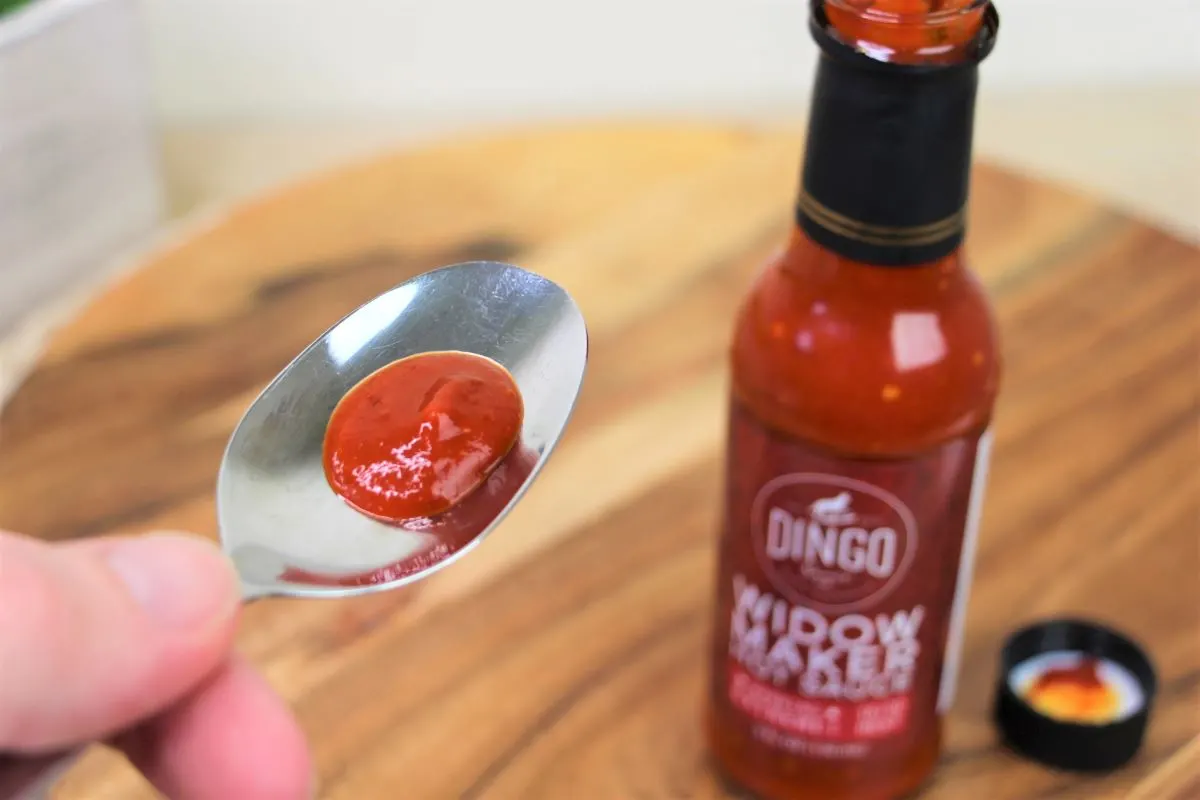 ---
Is Widow Maker Worth It?
This is a tough one. We really enjoy the flavor of Widow Maker, but the price and high-heat level will make this sauce a bit less appealing to some.
However, if you love super spicy food and you want to experience a fiery, yet, controlled burn, Widow Maker may be worth it to you (or your crazy Uncle Hank who grows his own Ghost Peppers).
Kudos to Dingo Sauce Co. for a tasty, devilishly spicy sauce! Even our cat approves…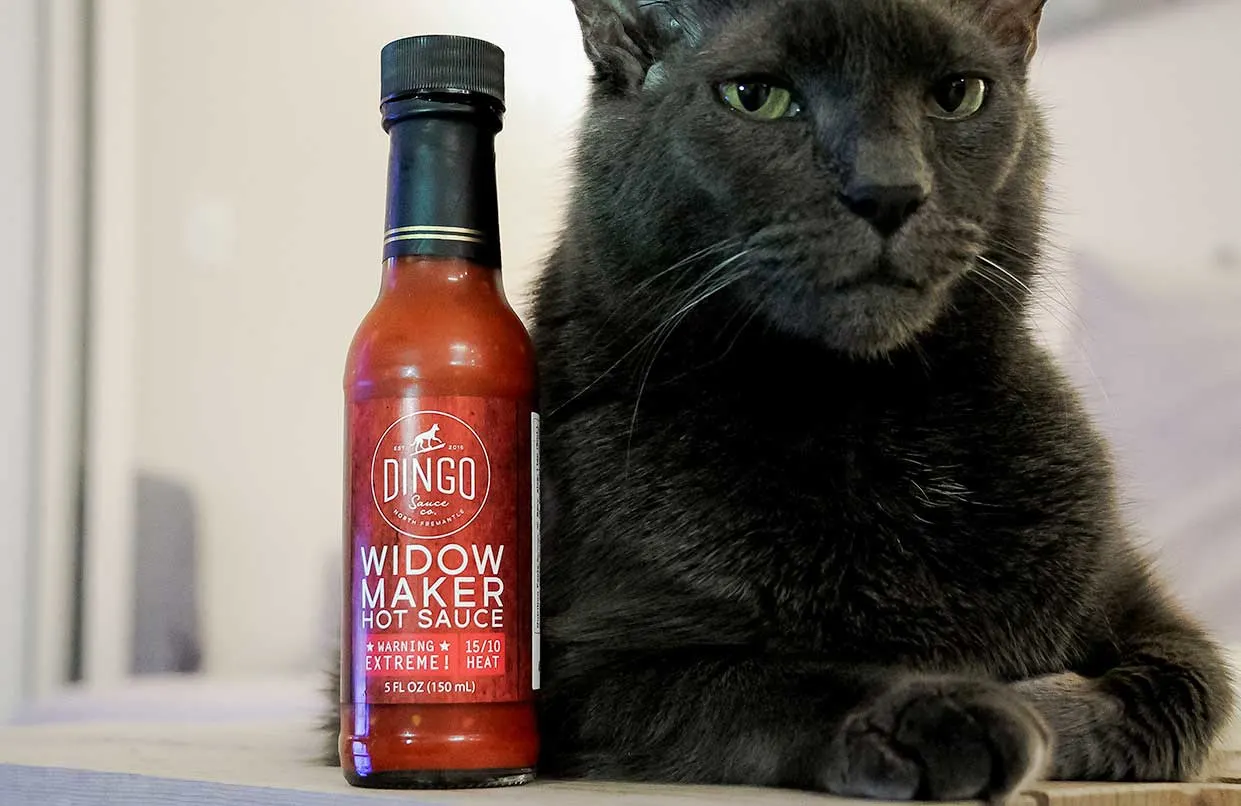 Get your own bottle on Heatonist
---