There's no reason you can't enjoy jalapeno poppers if you have a sensitivity to dairy. These dairy free jalapeno poppers are a great alternative to the well-loved traditional poppers with cream cheese. You could head over to Whole Foods and pick up a package of vegan cream cheese to make jalapeno poppers. However, I prefer to use a homemade creamy, nutty filling.
You can cut this recipe in half if you don't want to make a large batch.
Pepper Geek participates in various affiliate programs, meaning links contained in this article may provide us a commission should you make a purchase on the linked website.
Get The Filling Right
Traditional sausage stuffed jalapeno peppers are simple to make. The cream cheese blends effortlessly with whatever meat and cheese combination you're using. However, making jalapeno poppers without cream cheese is a little more challenging.
To get the best consistency for these stuffed peppers, you'll want to soak your cashews for at least 4 hours at room temperature. You can also soak them overnight in the fridge. This softens the nuts and makes them easier to blend.
When blending all your ingredients together in the food processor, you can add water by the tablespoon until it meets your desired consistency. Ideally, the filling will resemble the consistency of regular cream cheese (or close to it).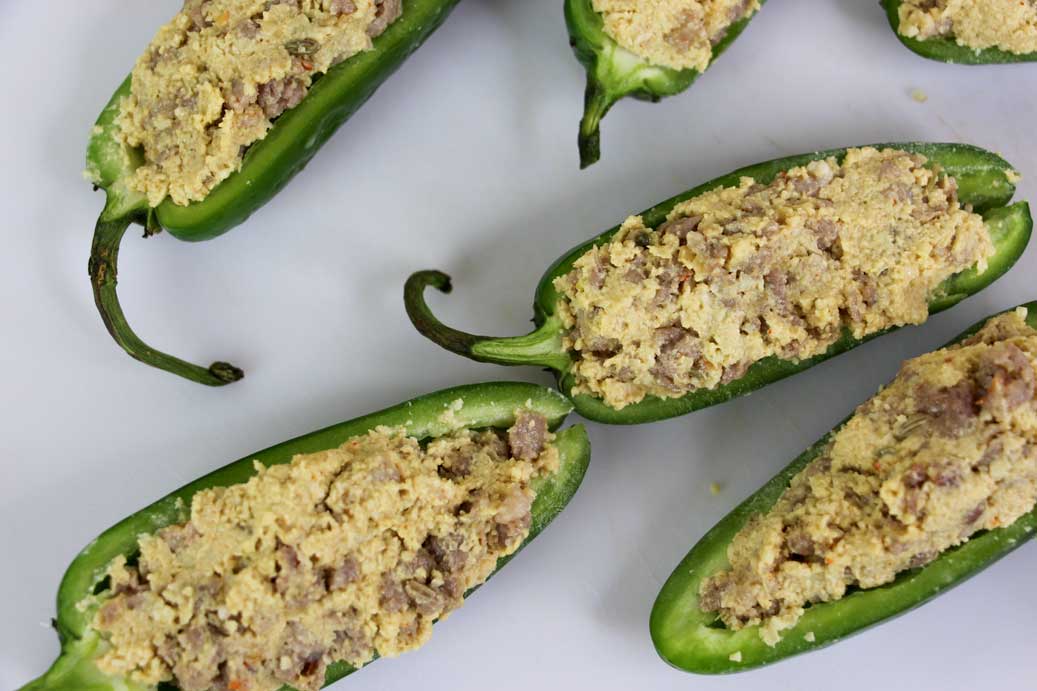 Using Nutritional Yeast For Dairy Free Jalapeno Poppers
There's a reason that nutritional yeast is a household staple for many vegans. It's a simple way to add wonderful, cheesy flavor to dairy free dishes. Nutritional yeast is an excellent source of B vitamins, which is another reason we like to cook with it.
We buy our nutritional yeast at Trader Joes, but you can find it at most health-food stores or even on Amazon. I would not recommend leaving the nutritional yeast out. It's an essential ingredient in this dairy free jalapeno popper recipe!
Can this recipe be made vegan?
If you're looking to make vegan jalapeno poppers, you can substitute the sausage in this recipe with a plant-based meat. I would suggest using a spicy vegan sausage to ensure a good flavor. If you use vegan sausage, I would also recommend adding a splash of soy sauce or liquid aminos for a salty boost that regular sausage provides.
I can't comment on how the texture will be affected (they may come out more on the dry side using a leaner meat or meat alternative). I would love to hear your results if you try this recipe with a vegan twist!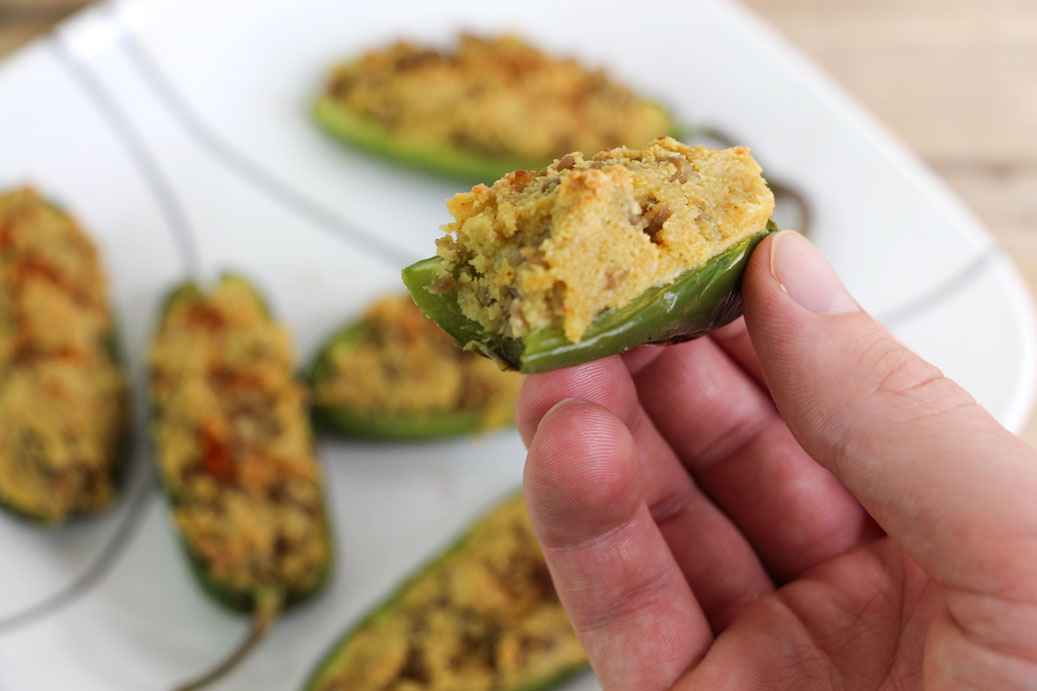 Tips For Making The Best Dairy Free Jalapeno Poppers
Use a good sausage. Much of the flavor in this appetizer comes from the sausage. We like to use a hot and spicy pork sausage for this recipe. Can you substitute another meat? You could, but we like that the sausage keeps these poppers from drying out. We also think the sausage flavor goes incredibly well with the mustard flavor in the filling.
Use fresh jalapenos from the garden or local farm stand to ensure you'll still have some heat. Jalapenos from the supermarket sometimes lack flavor and spice.
Soak your cashews. To ensure the creamiest texture, you'll want to soak the cashews in water for at least 4 hours at room temperature. You can also soak them in the fridge overnight.
Drizzle with hot sauce. We love using Marie Sharpes hot sauce on these jalapeno poppers. However, you can use any hot sauce you like. The sauce brings all the flavors together and makes them look extra colorful and appetizing.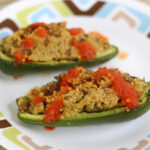 Print Recipe
Dairy Free Jalapeno Poppers
A dairy free alternative to a classic appetizer
Ingredients
1

Cup

Cashews

Soaked

1/2

Pound

Sausage

Cooked and drained

1

Clove

Garlic

Chopped

3

tbsp

Nutritional Yeast Flakes

1

tbsp

Water

1

tbsp

Dijon Mustard

1

tsp

Lemon Juice

1/4

tsp

Cayenne Pepper

1/4

tsp

Cumin
Instructions
Preheat oven to 350°F

Using gloves, slice jalapenos lengthwise and scrape out seeds

Using a food processor, blend together soaked cashews, cooked sausage, dijon, lemon juice, chopped garlic, and spices. Add water by tablespoon to meet desired consistency. (You shouldn't need more than a couple tablespoons.)

Distribute filling evenly among peppers

Grease a baking sheet with olive oil and bake for 15-20 minutes at 350°F

Garnish with paprika and your choice of hot sauce – serve immediately
Let us know in the comments if you tried this recipe and what your thoughts were. We would also love to know what hot sauce you chose to garnish them with!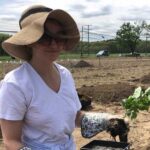 Crystalyn
Crystalyn loves spicy food and getting creative in the kitchen. When she isn't finding new ways to use hot sauce, shes very busy watching cat videos on the internet.
---